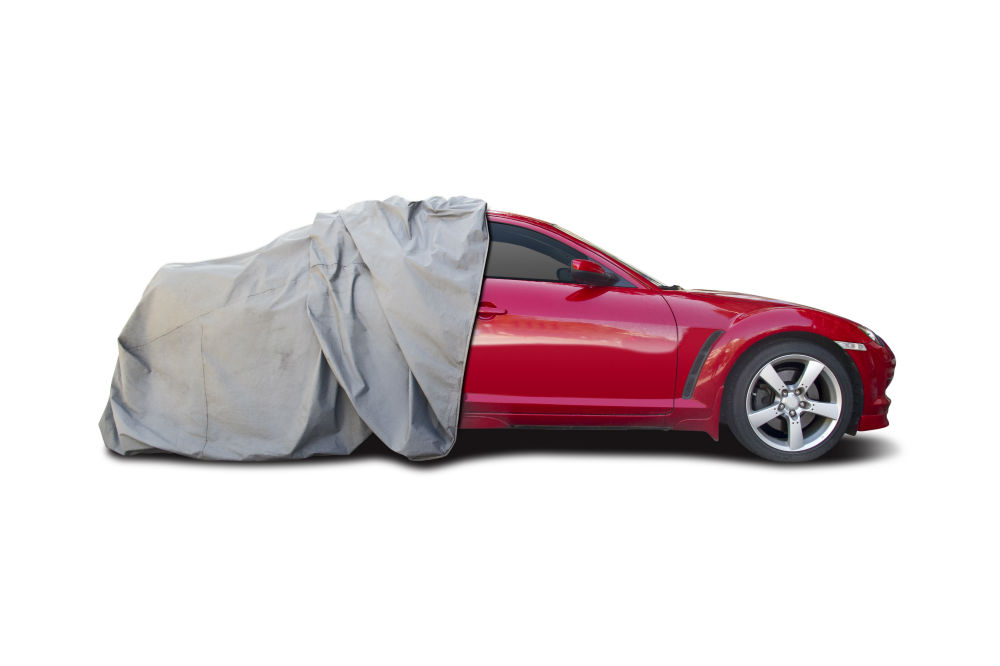 Fewer things are worse than leaving your car out in the open in severe weather conditions. You may find it full of scratches and holes, covered in debris. Even when the weather seems tame, the sunlight can wear off your paint over time and dirt can pile up.
To prevent these situations, you should get a car cover. This convenient product should protect your vehicle from external and internal conditions and keep it in good shape.
In this article, we will look at some of the best car covers and help you decide which one to buy.
Best Car Covers
Comparison Chart
Ohuhu Car Cover for Sedan, Outdoor Sedan Cover Universal Size Car Covers for Sedan L (191"-201")
BLIIFUU Car Cover,SUV Protection cover Breathable Outdoor Indoor 
Kayme Multi-Layer Car Cover Waterproof All Weather for Automobiles
Leader Accessories Car Cover UV Protection Basic Guard 
AmazonBasics Car Weather Cover, Mid-Size Sedan
Best Car Covers Reviews
Ohuhu Sedan Car Cover
This car cover is tailor-made for a sedan type of car ranging from 191 to 201 inches in length. If you're looking for a weather-resistant and affordable cover for your family car, this one may be just the right choice.
Product Highlights
This is a quality polyester-made cover that will keep your car safe regardless of outdoor conditions. It's a sturdy and durable material that blocks stray debris from scratching and damaging your car. The same goes for dust, sand, leaves, and even bird drops.
Furthermore, it can protect the car from various hazardous conditions such as snow and heavy rain, and a silver coating provides perfect security against the sun and UV rays. If you need protection from the wind, the cover does well with that too. Wrap it around your car and adjust with elastic hems. Then buckle it up with the three strong buckles so it remains in place even during heavy winds and storms.
When it comes to cleaning, you don't have to worry about spending too much time on it. The polyester cover can be washed perfectly well with a wet cloth or a hose. Simply wipe the cover or pour water over it and all the dirt will fall off.
The portability of this car cover may also come in handy. You can fold it, put it in your bag, and carry it with you. This is extremely useful if you're going for a longer trip by car. You can always pull out the cover to protect the car from the outdoor conditions, regardless of where you stay.
The Good
This sedan cover is an extremely affordable option that should protect your car from most environmental threats, and especially debris, dirt, and sunlight. It's easy to clean up and has a stable system that will keep the cover on during strong winds.
The Bad
One of the serious problems about this vehicle cover is a lack of breathable mesh. Similar to other plastic materials, polyester may cause some issues if the water pierces through the cover; the water will not evaporate and may cause rust, mold, and other damage.
BLIIFUU Car Cover
The BLIIFUU car cover is made to protect SUVs from different types of weather and external conditions. It's a reliable vehicle cover with strong outer material and a soft inner surface that won't damage the paint. If you can splash a bit more cash for an SUV cover, look no further.
Product Highlights
This car cover is made of a very strong, thick-layered polyester material. Once you put it on your car, you don't have to worry about stray branches, dirt, and rocks hitting your car and leaving scratches. This durable material can repel debris for a long time, and it is extremely difficult to tear. At the same time, the smooth surface on the inside will leave the surface of the car intact.
On top of that, its silver coating provides a perfect sunscreen and protects the external and internal area of the car from UV lights and sunlight. The top layer provides waterproof cover from heavy rains, storms, and high amounts of snow.
If you're worried about the visibility of the light-colored cover during night time, the manufacturers added six fluorescent light strips that will make the car visible at any time of the day or night. This way, you can stay safe and avoid unnecessary accidents.
The Good
The silver coating and durable design of the material make it perfect for extremely hot conditions. Thanks to the sunlight-reflecting properties of this cover, your car maintains a decent temperature inside and you won't feel like entering a sauna when you open the door. It also prevents plastic and other inner materials vulnerable to heat from melting.
The Bad
If you own any other type of car besides SUV, you'll have to look away. The dimensions are specific and won't fit any other vehicle type. The price is also a bit above average for a car cover, so if you're on a budget, you may want to look for cheaper solutions.
Kayme Car Cover
Looking at all the available sizes and features, this is one of the best car covers around. However, the price is well above those of its counterparts. Overall, this cover from Kayme serves its purpose tremendously and is well worth the higher price.
Product Highlights
The first thing that captures the attention is the cover's thick design. It consists of four separate layers, each with a separate purpose. The surface layer – PEVA, will shield your car from the harmful UV signs. Beneath this layer is HDPE, which is almost completely water-resistant. However, even if some drops find their way under the cover, the tiny breathable holes will make them evaporate quickly.
The third layer consists of aluminum, which is another material that provides reliable defense from the sunlight. Unlike PEVA, which will block UV rays, aluminum will reflect the remaining sunlight back and keep the temperature in the car bearable during extremely hot days. The bottom of the cover is made of cotton so that the car's surface will remain intact.
The Good
Other than the top-quality material and design, this Kayme car cover has some features you might like. First of all, the reflective stripes on the cover make the car visible during night time. With this, you'll be able to prevent accidents at night. Also, the cover has a pair of zippers on the sides, which makes it easy for you to access the inner part of the car; there's no need to remove the whole cover. Finally, you get a small carry bag to put the cover in when you're not using it.
The Bad
The cover comes in various sizes, but when you pay more attention, you notice that all the sizes are generally intended for Sedans. So, if your car is a different type, it probably won't fit. Also, the price is almost double that of other viable options, which may be a deciding factor for some.
Leader Accessories Car Cover
Looking at the overall features, this is one of the best car covers if you're on a budget. Made of a high-quality, multi-layered material, this Leader Accessories cover provides optimal protection for an extremely reasonable price. On top of that, you can pick from various sizes – from an SUV to a small truck.
Product Highlights
This car cover provides decent protection against the sun, wind, and other unfavorable conditions. The material is soft and thin, so it won't damage the surface in any way. It's not completely waterproof, but it has a breathable mesh and air hole that helps the water go away.
One of its other main selling points is its versatility. Unlike other covers on the market, this one is available in a wide range of sizes. The smallest one is a sedan-type size up to 157" in length, and the two largest covers are for SUVs and trucks, measuring up to 249" in length.
The light weight of the cover shouldn't worry you too much, as it comes with a strap and buckle that will keep it still and firmly in place during strong winds.
The Good
The variety of sizes and a good price are just some of the good things about this cover. It is also made from biodegradable material with proven quality, which may appeal to those who care about the environment. There's also a storage bag that comes with this light cover, so you can effortlessly pack it when not needed.
The Bad
Even if the overall quality of the material is good, it's not waterproof. This means that it won't help much during heavy rains and snow. If you're living in a place where it frequently rains, you may want to opt for a cover made of a thicker, more water-resistant material. Also, the dark-blue color of this cover can attract sunlight and make the inner area of the car too hot.
AmazonBasics Cover
If you're looking for a waterproof cover from a trusted source, you may like this one. However, it comes with a slightly higher price than some of its counterparts.
Product Highlights
This cover from AmazonBasics will protect your car from all outdoor hazards. The material can resist both rain and snow and has a thick layer that prevents small objects from piercing through and scratching the car. Also, the soft surface on the back of the cover won't damage the car while it remains sheeted.
The hem is elastic and you can fit it to most regular-sized cars. That said, you can pick between four different Sedan-type sizes. The largest size can fit up to 229" inches long sedan, while there's also a smaller size for cars that measure up to 168" in length.
Once you sheet the car with this cover, you can use the rope at the bottom to tighten it and prevent the wind from blowing it away. When you remove the cover, you can use the small bag included in the set to pack it up and store it safely for next time.
The Good
The material is completely water-resistant and can handle heavy rain and snow. If some water finds a way under the cover, the breathable fabric will help it evaporate before it wreaks havoc on your car's surface. On top of that, it takes very little effort to put on the cover.
The Bad
The thin material is not as durable as some of the denser ones, and it may rip during heavy wind and storms. Other than that, the main downside of this cover is its slightly higher price.
Car Covers Buyer's Guide
UV Sun Protection Car Covers
If you want to maintain the paint job on your car, you should look for a UV-protective car cover. That's because UV rays can quickly oxidize the paint of your car, making it fade away and appear a lot older than it is.
Since you can't just leave your car indoors all the time (which would be the best solution), a cover equipped to provide protection from UV rays will prolong a new paint job for quite some time. Not only will it protect the outer appearance of the car, but it can also significantly reduce its inner temperature. The radiation won't penetrate through the windows, which will protect the plastic parts inside from disintegration.
These types of covers are usually made of light-color fabric that repels the sunlight more effectively than its darker-colored counterparts. Due to their UV-resistant traits, light covers are also a lot more durable than those that are not resistant to sunlight.
Quality
The quality of a car cover can wary depending on the material, drying time, whether the car is parked indoor or outdoor, and other factors. Usually, car covers are made from one or more of the following three materials:
Cotton
This cover is the softest and least durable out of all three options. However, it won't be as abrasive as other materials when it comes in contact with your car's surface. It's also an extremely breathable fabric which will prevent water from gathering on the car's surface, thus protecting it from mold and rust.
Polyethylene
This is a regular plastic cover with waterproof properties. This type of cover is the most widespread and protects the surface from water, debris, and scratches. Thanks to the sturdiness of the material, these covers are ideal for strong wind conditions as they are almost impossible to rupture.
Aluminum
Some car covers also have a layer of aluminum. The addition of this lightweight metal protects the car from UV rays and keeps the inner temperature low. It also keeps both the shell of the car and the plastic inside from deteriorating.
Breathability
A breathable car cover is extremely important because it allows all the water trapped underneath the cover to evaporate and prevents your vehicle's surface from staying wet for too long. In doing so, it also prevents mold, rust, corrosion, and mildew.
Both waterproof and breathable materials have their upsides, but most car owners prefer breathable materials. This is because waterproof materials are usually made of lower-quality nylon, PVC, and polyethylene. They act like an impassable barrier for moisture and water, but as they say – water always finds a way. If tiny drops find their way underneath a waterproof cover, they will remain there for a long time and probably damage your car's surface.
If you want maximum efficiency, it's important for a cover to be both water-resistant and breathable. Even if you want a polyethylene or PVC cover, make sure that they have breathable mesh vents. These covers can prevent high levels of moisture and still allow the surface to breathe.
Color
Today's best car covers come in various colors. While you can always choose a color that you prefer, sometimes it's important to pick the correct shade. If you want the best for your car, you should consider some important factors when it comes to color.
First, if you live in a warmer part of the world, it's extremely important to cover your vehicle outdoors. That said, you should be aware that darker colors absorb sunlight and can make your car even hotter than it would be without the cover. In these circumstances, it is best to select a lighter shade. The best bet would be a silver cover because it's able to reflect part of the sunlight. A white or blue cover is also a good choice.
Also, when your car is light-colored, there's a chance that the cover paint could bleed through and leave stains on the surface of your car. To avoid this, it is best to use a lighter-shade cover, preferably similar to the paint of your car. This way, even if some of the color bleeds through to the surface, it won't be as easy to notice.
Weatherproof
When it comes to weather resistance, it usually depends on what kind of weather you want to protect your car from.
For example, strong winds can carry debris which can easily damage your car, but it can also tear a soft car cover. In this instance, it would be best to use PVC and polyethylene covers, as they are windproof and strong.
On the other hand, aluminum is good for protecting the car from strong sunlight and UV rays. A cloth cover is breathable and soft, providing a perfect solution for mild weather with occasional rain.
Best Car Covers FAQ
Are car covers waterproof?
The water-resistance of car covers mostly depends on the material they're made of. Some repel water much more effectively than others. For example, polyester, PVC, and polyethylene are usually the most waterproof.
Keep in mind that aeration is almost equally important as water resistance. There's always a chance that a small amount of water can find its way underneath the cover. If it can't dry off, it may cause damage to your car.
How do you put on a car cover?
Most car covers have elastic hems that you can stretch over the edges of the car. Once you place the cover, there is usually a rope or a strap and buckle that you can use to stabilize the cover. This way the wind can't blow it off.
Can you wash a car cover?
Yes, most car covers are washable and reusable. How long they will last depends on their quality and material. The easiest material to wash is plastic (PVC, polyethylene, etc.) and it usually requires damp cloth or a bit of water. If you opt for a quality cotton cover, you may need a bit more effort to clean it up.
What size cover do I need?
Although covers are elastic, you should always choose the size based on your car's measurements. Measure the length, height, and depth of your car before getting a cover. Usually, each size type has a certain range, like 200"-219". If your length is exactly the same as the maximum length of the cover, it's better to get a size bigger. Otherwise, you may not be able to attach the hem to the edge of the car.
Do car covers damage paint?
Car covers can damage paint if the material is of low quality. They can leave physical marks such as scratches or holes, or the color can bleed through and leave stains. This is why it's better to pick a high-quality material with a soft bottom side.
How to use a car cover
You can use a car cover both outdoors and indoors. You should put it over your car even if the weather conditions seem mild. Leave a car overnight without a cover and tomorrow it may look unrecognizable from all the stray debris, dust, and bird drops. Also, sunlight is a systematic destroyer of paint, while UV rays can radiate to the inner part of the car and damage some parts of it. Whether you're parked indoors or outdoors, a high-quality cover will protect your cart from all these factors.
Final Verdict
If you need to choose one cover, the Kayme Car Cover is an obvious pick. One of the best car covers on the market, it consists of four layers of high-quality materials, each shielding your car from a particular threat. It is very well-designed and comes in various sizes. Unfortunately, the size only fit Sedan-type vehicles. A good budget replacement for this is a Sedan-type cover from Ohuhu, which is made from a slightly lower-quality material but is available at half the price.
Another interesting pick would be the Leader Accessories car cover, especially if you're driving an SUV or even a smaller truck. It is significantly cheaper than the Kayme, but maintains high-quality. On the other hand, it is not as effective in snowy and rainy weather.
Overall, the choice depends mostly on your budget, the type of car you drive, and the type of weather where you live. Once you consider all these factors, it shouldn't be difficult to select one of the five best car covers reviewed in this article.