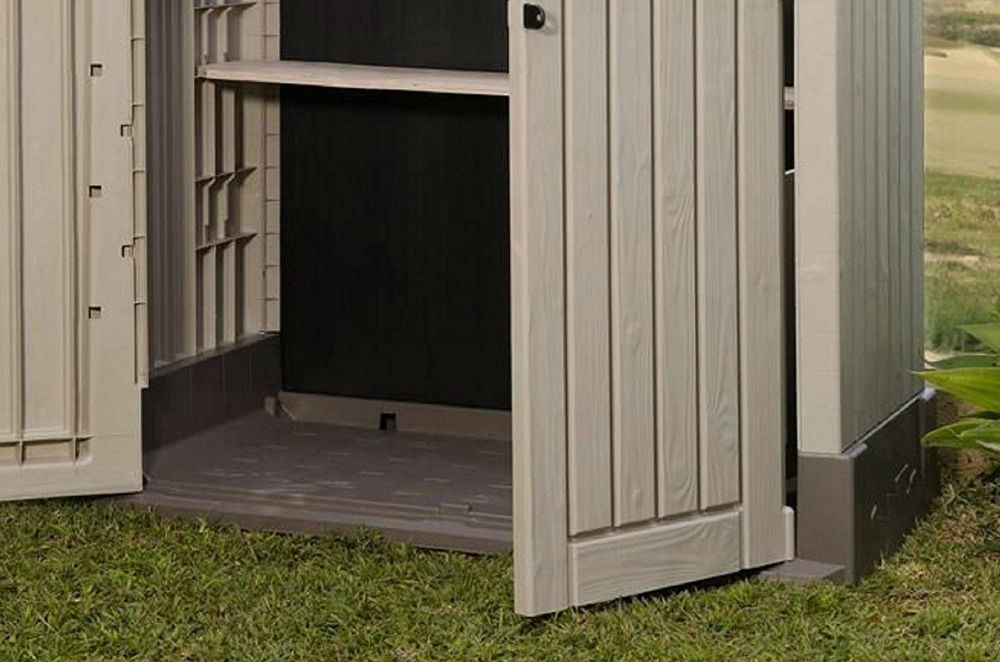 A generator shed allows your generator to run outdoors while still being protected from weather elements such as extreme sun exposure, gusty winds, rain, and snow. It also shies away pests such as insects and rodents, which can damage the wires and cords.
Generator sheds that come with a provision for a padlock also provide safety from thieves. The thick panels of the shed also minimize the noise that not only disturbs your family but your neighbors as well.
Comparison Chart
Suncast BMS4700 The Stow-Away Horizontal Storage Shed, (70-cubic Feet)
Keter Store-It-Out MIDI 4.3 x 2.5 Outdoor Resin Horizontal Storage Shed
Rubbermaid Outdoor Horizontal Storage Shed, Large, 32 cu. ft., Olive/Sandstone (FG374701OLVSS)
​Best ​Generator Shed Reviews
​1. ​Suncast Horizontal Storage Shed
Made from resin, it is durable and weather-resistant. It has double doors in front and a lid on top, which makes storing a heavy machine inside. The ramp also helps in wheeling the generator in place.
What's to like about the ​Suncast Horizontal Storage Shed
​The lid on top can be opened so that ambient air may cool the generator while working. A foot latch secures the closed doors to the floor, while a padlock hasp adds extra security. It can be easily assembled in less than an hour, as it doesn't require any tools.
What's not to like about the ​Suncast Horizontal Storage Shed
​This storage shed's hinges on the doors does not seem to work properly. There are also complaints regarding the durability of the Suncast Horizontal Storage Shed.

​2. ​Keter Woodland Storage Shed
Just like the Suncast Shed, this one has double doors in front and a lid on top. It is made of waterproof resin, styled and painted in a manner that looks like wood.
What's to like about the ​Keter Woodland Storage Shed
​It will look great when stored in the backyard. Aesthetics aside, it has a sturdy floor panel and a provision for lock. It is easy to assemble, as no tools are required to put it up.
What's not to like about the ​Keter Woodland Storage Shed
​There are complaints that the product upon unboxing is defective. It could be due to the supplier or how it was shipped. Gladly, Amazon refunds the product.
​3. ​Rubbermaid Horizontal Storage Shed
Constructed from high-density polyethylene, this shed will not chip, crack, or peel. It features interlocking resin panels, with double doors in front and a lid on top.
The doors have provision for padlocks for extra safety. It is sturdy and is roomy enough for your generator. Like the other examples, this can be easily installed, as it doesn't require tools to assemble.
What's to like about the ​Rubbermaid Horizontal Storage Shed
Storage properties are top-notch however, as the sheds are not only weatherproof, but they keep away factors that may lessen the life of the generator.

What's not to like about the ​Rubbermaid Horizontal Storage Shed
​​As previously mentioned, these sheds on its own are good only for storage. They are not to be used while the generator is running. This is because these sheds don't provide exhaust for the gas and heat emissions.
F.A.Q.
​​How do you maximize the use of your generator shed?
As discussed above, you are maximizing the use of your shed and generator alike if you enclose the latter in a shed modified to the needs of an operational generator. An expert may do shed modification for a fee or you may do the changes yourself.
To do it on your own, make sure that air can continuously flow inside the shed not only for cooling the generator but also to drive the fumes and emissions out. You may punch a hole on the wall where the fumes can go directly out. Or better yet, install an exhaust fan to suck the fumes out and bring fresh air in.
You may add ventilation openings on the other side, or near the bottom of the shed so cool air can easily breeze in. Vents with automatic louvers are recommended to keep rain, insects, and rodents out.
Another way to beef up your shed is to add soundproof boards to the already thick and durable walls so it could contain most of the noise, if not fully. The generator should also be screwed tightly on the floor as vibrations might cause it to slowly move toward the edge of the wall.
A temperature detector may also be installed to monitor the generator, whether it is heating up too much or fan cooling is lost.
Some further tips: Make sure not to store paint or other flammables in or near the shed, not even the gas can you use to refill the generator's tank.
Check the wires and cables thoroughly to ensure that it is properly connected to the breaker box. The cables should be equally sheltered from heat and water.
​​Why do you need a generator shed?
Through the use of a generator shed, you are not only adhering to the standards of safety by utilizing your generator the recommended way, you are also prolonging the life of the generator by housing it an enclosure where it will be protected from damaging factors.
Always take note that generators are strictly to be run outside the house and nowhere near windows, doors, and ducts. Running it in the garage or any enclosed space near the house is also prohibited as deadly carbon monoxide gasses could build up.
As generators are exposed to outdoor factors that may decrease its lifespan, it is important to house it in a shed where it can fully be protected while still being able to function optimally.
​​Where can you buy a generator shed?
If you scour the Internet, you will find that it is rare to find a full-functioning generator shed sold on the Internet. Full functioning means that the exhaust and fumes are taken care of, the heat caused by the motor is cooled, and the sound is barricaded.
Usually, these types of sheds are modified and assembled basically on the needs of the user.
There are companies however, that provide services of converting a simple shed into a generator enclosure for a fee. For these services, usually the shed is not included and should be provided by the customer.
Therefore, a good generator enclosure starts through the procurement of a simple shed. Where do you find these types of sheds and what exactly are the ones that can effectively house a generator? We have gathered a few types, varying in size, brand, and price.
​Conclusion
​A modified generator shed is one of the best ways to keep the generator safe and looking good. A generator built-in and ready to use also eases up the steps to take in assembling it.
Every time you have to use it, you don't need to dig the generator out of storage and install it outside. This can be helpful during emergencies when there is an immediate need for power supply.