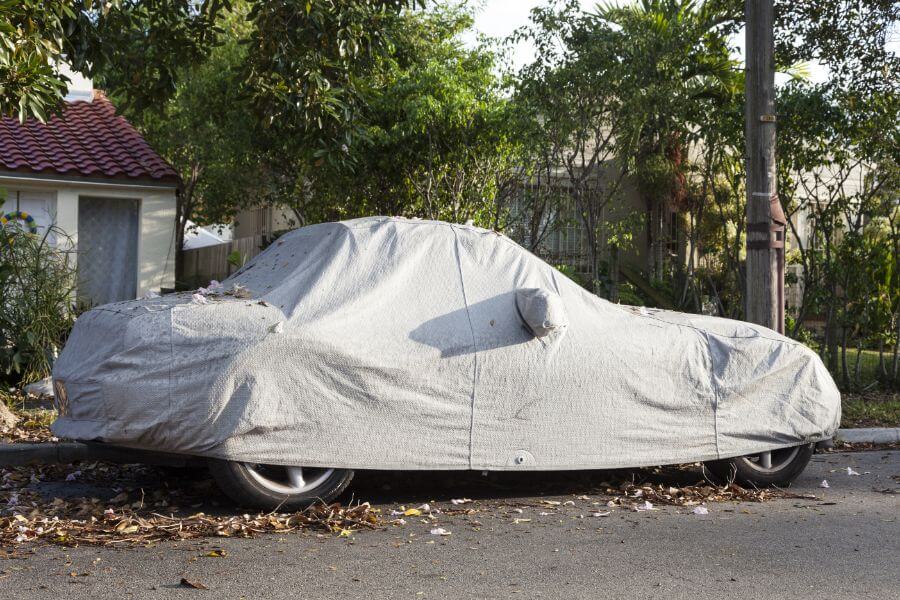 Leaving your car out in the open during bad weather is never a safe thing to do. External objects can hit your car causing severe damage during something as simple as harsh winds. It can get even worse if your car is affected by heavy rain, snow, or industrial pollutants.
You might leave your car for the night and find it full of holes and scratches in the morning. A good car cover can help you eliminate all of those risks. This article will review a high-quality car cover that you should consider – the Eluto Car Cover.
Eluto Car Cover
The car cover that we will review in this article comes from Eluto. This manufacturer specializes in car parts and car equipment. So, aside from car covers, they offer universal car windows, wheel covers, windshield sunshades, etc.
Since they have a lot of experience and knowledge when it comes to vehicles, you can expect useful features from their products, which includes their car cover.
Its goal is to keep your car safe under all weather conditions, regardless of how severe they are. Judging by its features, it can easily accomplish that goal.
Who is this product for?
The Eluto Car Cover is made for people who store their cars outdoors. However, no rule prohibits you from using this car cover indoors as well as protection against moisture, dust, etc.
In case you live in a place that's known for bad and unpredictable weather, then the Eluto Car Cover is ideal for you.
For example, if heavy rain accompanied by harsh winds is common for your area, the Eluto Car Cover could keep your vehicle safe. Although protecting your vehicle under such weather is what this car cover is mainly about, that's not where its functionality ends.
If the area that you live in is also known for theft and vandalism, then this car cover could lower the risk of getting robbed.
In case your only goal is to find a way to keep your car as clean as possible, the Eluto Car Cover is perfect for that as well. It can be used to keep your car safe against bird droppings, insects, etc.
What's included?
Based on your car's dimensions, you will receive the Eluto Car Cover that will fit your car perfectly. What you need to keep in mind here is the fact that your car's dimensions might not be currently supported by Eluto.
To avoid ordering a product that won't fit your vehicle, make sure that you measure your car's dimensions and check if it's currently supported. We use the word "currently" because Eluto could expand their supported measurements in the future.
Alongside the Eluto Car Cover, you will also receive one delicate box and one storage bag. You can use the storage bag to easily carry your Eluto Car Cover wherever you want.
Overview of features
The Eluto Car Cover is excellent against all types of weather conditions due to the materials used for its making.
It's made out of high-density polyester fabric, which is backed up by silver coating. Those materials are known for their waterproof properties, making this car cover effective even against heavy rains. This car cover's materials will ensure that your car's surface is protected against scratches.
Sun exposure also won't be a problem anymore as the Eluto Car Cover offers protection against harmful UV lights. It effectively blocks the sun's UV rays and keeps your vehicle's temperature from rising.
It's a well-known fact that car covers are very easily blown away by harsh winds. However, this car cover has everything that will keep it in place. It features four durable straps that are fixed on the wheels. There's also a central strap that features a buckle at the very bottom. That will keep the Eluto Car Cover from moving an inch even when facing heavy winds.
To ensure a snug fit, the manufacturers have included the elasticized hem and hooks. They are placed around the bottom.
There are also four reflective stripes used for safety warming.
All of these features will ensure that your vehicle is protected against snow, rain, wind, dust, UV rays, bird droppings, leaves, insects, extreme temperatures, and more.
To add to all of this, the Eluto Car Cover is very easy to clean. The only thing that you need is a wet towel.
This product will fit sedans between 185"' and 199" long and SUVs up to 191" long.
How to use
If you've ordered the right size of this car cover for your vehicle, here's how you can use it.
First, you need to cover your car's rearview mirror pocket. After that, roll the car cover and cover your vehicle's front side first, followed by the rear side.
The only thing left is to secure the Eluto Car Cover. You can do that by hooking the bottom buckle and straps.
Alternative
In case you want to find a more secure product, you might want to consider getting the BLIIFUU Car Cover. This car cover is an excellent alternative to the Eluto Car Cover. It has similar features and belongs in the same price range. Although these two products are quite close, the BLIIFUU Car Cover is more durable.
Conclusion
Your car will be safe against bad weather conditions if you invest in the right product. The Eluto Car Cover has all the right features to ensure exactly that. It is also way cheaper than some of its competition while offering the same type of features. Before deciding to buy this product, make sure that your car's size is supported.