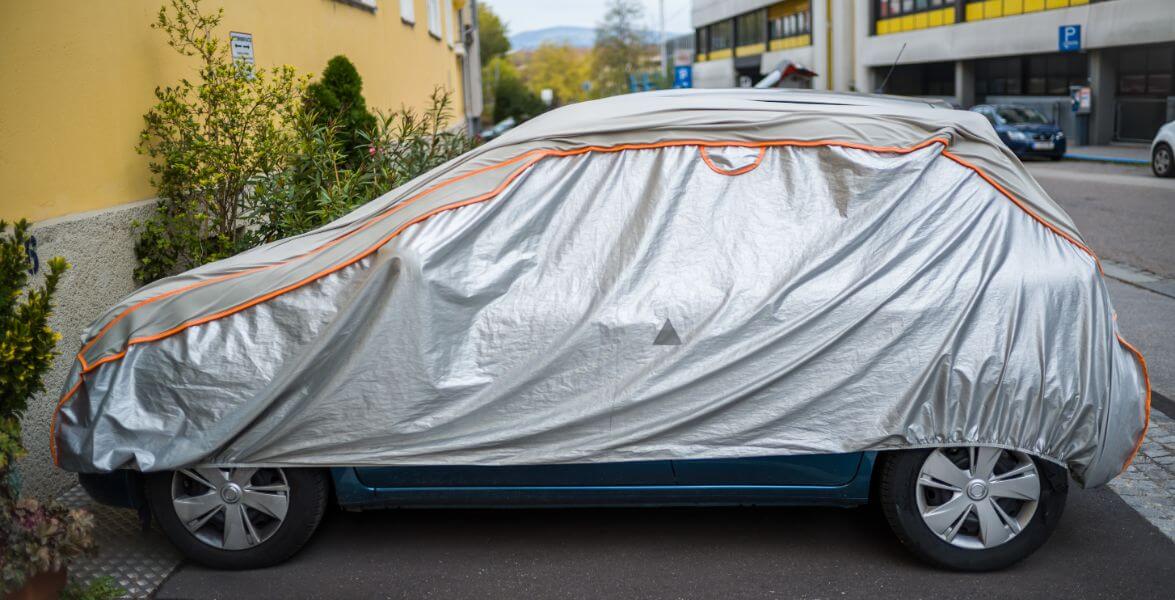 Buying a car is one of the biggest investments you will make and you should do whatever you can to keep it in perfect condition.
In case you can't store your car in your own garage, you need to worry about its No. 1 nemesis – bad weather conditions. Something as simple as leaving your car exposed to the sun can dull its paint. And that's only one example.
The best way to protect your car against outside factors is buying a good car cover. Let's see why you might want to consider buying the KAKIT Toyota Car Cover.
KAKIT Toyota Car Cover
Released in early 2018, the KAKIT Toyota Car Cover is relatively new on the market. Since then, the KAKIT Toyota car cover has climbed the market ladder, becoming one of the top car covers available today.
Its goal is to provide absolute protection to your car when it's stored anywhere outside of the garage. That includes protection against severe weather conditions such as heavy rains, harsh winds, snow, industrial pollutants, different external objects, etc.
This car cover's features can definitely accomplish its goals. We will thoroughly review all of them in the following sections.
Who is this product for?
The KAKIT Toyota car cover is made for everyone who parks their vehicles outdoors. This car cover is ideal for people who live in areas known for harsh weather conditions. In case you are facing heavy rains every now and then, you belong to this product's main target group. Of course, there isn't a rule that permits you from using this product indoors.
The KAKIT Toyota car cover is also made for people who want to add to their vehicle's security while being parked at night.
The only thing that you need to worry about is whether your vehicle's size is currently supported by this product. The KAKIT Toyota cover offers custom-fit sizes.
This product belongs to the middle price range. It isn't overly expensive nor very cheap.
What's included?
One of the good things about the KAKIT Toyota car cover is the fact that you'll get several additional accessories. These accessories will provide easy installation and add to this product's ease of use.
If you order The KAKIT Toyota car cover, the package will include the following items:
1 high-quality custom-fit KAKIT Toyota car cover
1 large storage bag
1 windproof buckle
2 antenna patches
Anti-theft lock
1 user manual
Overview of features
The KAKIT Toyota car cover offers all the right features that make a top-notch car cover. This is a custom fit 2010-2018 Toyota Camry car cover so make sure that you have all the right measurements before ordering.
The product features two mirror pockets to ensure easier installation.
One of the best features that the KAKIT Toyota is known for is its high-quality material. Its durable material is the very reason why this car cover is so effective against extreme weather conditions.
It's made out of nonwoven fabric with seams that are double-stitched. As such, the KAKIT Toyota car cover has shown excellent results against heavy rain, wind, snow, industrial pollutants, and other external factors such as bird droppings or insects.
It has an elastic strap at its bottom which adds to its windproof abilities. The KAKIT Toyota car cover also has a durable wind gust strap and a buckle that will ensure that your car cover doesn't move an inch under harsh winds.
You can choose between three and six layers of material when ordering your KAKIT Toyota car cover. The more layers your car cover has, the better the protection. However, the six-layer material structure costs more.
This product features a free anti-theft lock which will ensure that no one can take your car cover off if they don't know its password.
You will receive a 3-year warranty and 30-day money-back guarantee should you decide to order this product.
How to use
One of the features that this car cover is known for is its easy installation. First, you need to hang the rope to your vehicle's license plate.
After that, you need to strap the bottom buckle to fixate the car cover. Finally, adjust the magic tape which can be found on each corner.
Alternative
If you are on a budget but still need to find a good and reliable car cover, then the YIBEICO car cover might be a better alternative for you. This car cover is completely waterproof, dustproof, windproof, and provides excellent protection against other outside factors. The YIBEICO car cover is very affordable which will suit your budget well.
Conclusion
There are plenty of car covers on the market today. However, not nearly enough of those products are high in quality. The KAKIT Toyota Car Cover is definitely a car cover you can rely on. It is a bit pricey, but its features more than justify the price.