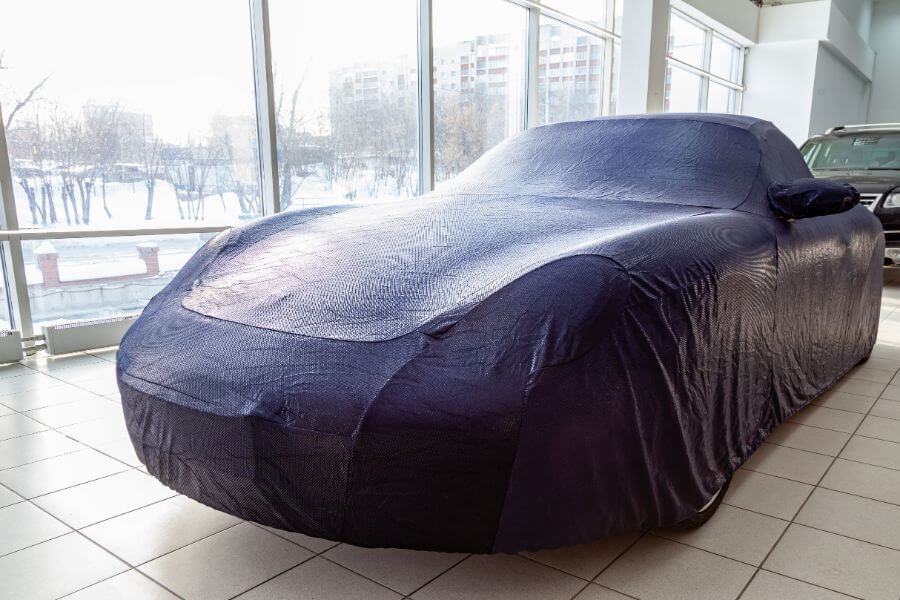 Owning a car is a big responsibility. Since that is a huge investment on your part, you should make sure that your car is stored in the best possible conditions.
Storing your car in your own garage is the best thing to do, but not all people have that luxury. If you are storing your vehicle outdoors, you need that extra layer of protection. With that in mind, this article will present a simple yet quite effective solution – the Audew Car Cover.
Audew Car Cover
The Audew Car Cover is relatively new on the market. What's special about this specific car cover are the materials that it's made of. More on that later.
This car cover is excellent against all weather conditions as it provides full protection. It has some additional features that separate it from other car covers on the market today.
The product's goal is to keep your car safe while it's parked outdoors. Its price range is somewhere in the middle; it's neither too expensive nor cheap. Of course, car accessories are not something you should save money on if you want to protect your investment.
Who is this product for?
This product is for people who often or always store their vehicle outdoors. In case the area you live in is known for severe weather conditions, the Audew has you covered. More specifically, it has your car covered.
It doesn't matter how bad the weather conditions are or where you live exactly, the Audew Car Cover is made for everyone.
The only thing that you need to think about are your vehicle's dimensions. Although the Audew Car Cover has lots of size options, you should take all the measurements beforehand. The currently supported size options range from 167" to 190" for Sedans and from 190" to 201" for SUVs and Jeeps.
What's included?
The Audew Car Cover doesn't come with any accessories. However, you will receive a storage bag for free.
You can easily store your Audew Car Cover in the storage bag you'll receive. That makes this car cover very easy to carry wherever you want.
Due to its lack of additional accessories, customers tend to buy other equipment separately when buying the Audew Car Cover. Those accessories include the
Gust Strap Car Cover Wind Protector
Kayme Gust Car Cover Straps
These items are frequently bought together.
Overview of features
This car cover is made of premium materials. Those materials are structured into six layers. This six-layer structure isn't that common among car covers although it's one of the best in terms quality. All six layers are breathable and high-density materials.
The first layer is the protective coating. Under it, we have PE, which is used for its waterproof and dustproof properties. The aluminum film is located right under the previous layer. This layer serves for protecting your vehicle against harmful UV rays.
The fourth layer is PE again, which adds to this cover's waterproof and dustproof abilities. The last two layers are EVA and soft cotton. EVA is a material known for being waterproof. The cotton layer is used to protect your vehicle's paint from scratches.
The Audew Car Cover also features reflective strips. They are attached to the surface of this car cover and serve to protect your car from collisions and other accidents at night. This feature also enhances your car's safety while being parked outdoors.
This car cover has a pretty strong windproof design. It has windproof buckles and straps. With that in mind, the Audew Car Cover won't fall off even while facing the harshest winds. To add to its stability, the manufacturers have included the elastic hem.
The Audew Car Cover can fit almost all types of sedans. It can go from 167" to 190" for sedans and from 190" to 201" for Jeeps and SUVs.
How to use
This car cover is extremely easy to use. First, you need to put the cover over your car. Make sure that you've covered everything.
After that, you need to adjust its elastic hem, which is located at the bottom of the cover. To ensure it doesn't move against the wind, fasten its buckles. You can adjust its straps to the length that you need. That's all it takes to install the Audew Car Cover.
Alternative
In case you want to find a cheaper alternative to the Audew Car Cover that has similar or same features, you might want to have a look at the AOYMEI full car cover.
This alternative car cover is also excellent against severe weather conditions while being a bit cheaper. It comes with additional accessories such as the large storage bag and the metal anti-theft lock that you'll definitely find quite helpful.
Conclusion
Providing your car with the best equipment that you possibly can will help ensure that it lasts longer. As such, you should definitely find a good car cover for your vehicle. Now that you know what to expect from the Audew Car Cover reviewed here, it's up to you to decide if it's the right choice for you.