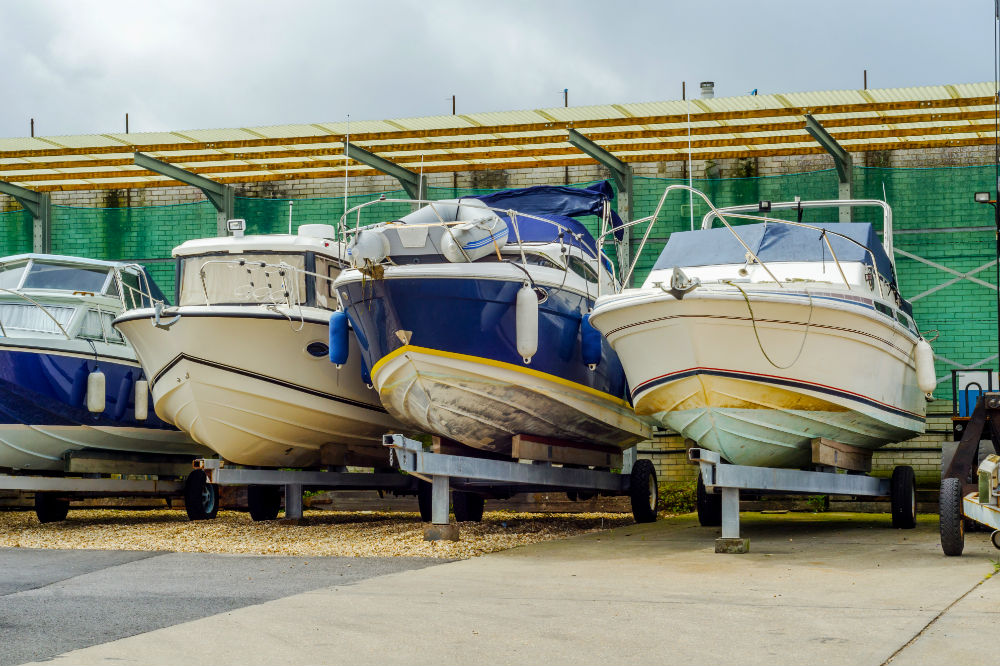 If you've invested your time and money into a boat, you'll want to ensure it lasts as long as possible and is in the best condition when you want to take it out onto the water. Making sure you have the right cover is vital for protecting your vessel, even more so if you plan to expose it to the rigors of motorway travel.
Let's have a look at the best boat covers for trailering on the market so you can pick for yourself which one best suits your needs.
Best Boat Covers
Comparison Chart
MSC Heavy Duty 600D Marine Grade Polyester Canvas 
Seamander Trailerable Runabout Boat Cover 
Leader Accessories 600D Polyester Boat Cover 
Classic Accessories StormPro Boat Cover (Grey, 20′-22'L)
Anglink Waterproof Boat Cover, Heavy Duty 600D Polyester 
Best Boat Covers Reviews
MSC Trailerable Cover
MSC's boat cover is a good choice, being a mid-range option with plenty going for it. It's a reliable option with respectable water and UV resistance, plus it comes with adjustable straps.
Review
This boat cover is reasonable measuring stick by which to judge other options. It's got a reasonable price for the quality of the product, it looks good, and it's pretty durable with a 600D rating. It comes with a set of straps and quick-release buckles which, along with how light it is, makes this an easy cover to handle and fit by yourself.
The 2-year warranty is a handy bonus and shows that it should last for a decent interval considering the price. The elastic band around the hem should help it fit properly and securely, and the canvas bag it comes with is a nice extra. It comes in a wide range of colors and sizes, so you should be able to find one that fits your hull and tastes.
It would benefit from the addition of some vents to prevent moisture build-up, though the material is fairly breathable. It also is lacking some of the reinforcements at high-stress areas provided by other covers, so you'll need to pad it or reinforce it yourself if you plan on taking extended trips with it.
Seamander Trailerable Boat Cover
Seamander's mid-tier boat cover is a solid offering that should hold up to most environments. It's another good option for the mid-range covers, as it's durable, water-resistant, and has adjustable straps, so it has all you need for your basic trailering needs.
Review
This cover is a good choice if you're on a medium budget. It's made of a fairly thick 600D woven polycanvas with a double coating of polyurethane (PU) which gives it respectable water-resistance and increased durability. It also has an excellent range of color options, more than most of the competition.
It has interlocking double-stitched seams, which makes it more robust under windy conditions, and comes with an integrated adjustable strap system, which is sewn near the hem. This makes it a suitable cover for trailering your boat, though the buckles aren't as sturdy as some of the other covers on the market. Plus, the elasticated hem uses industrial-strength shock cord, which is very durable and will ensure a snug fit.
Seamander also have a great customer service team, which, combined with the 2-year warranty, means you should have peace of mind for a while with this cover. It does tend to come in rather small for the size, so if your boat is at the limit of the listed size, you'd be safer buying the next bigger one.
Leader Accessories Trailerable Boat Cover
This medium-priced boat cover from Leader Accessories has a few smart touches missing from other covers in the same price range. These include reinforced corners and seams, and straps that are stitched on and go over the top of the cover, all of which makes this cover an excellent choice for trailering.
Review
This is a great cover for the money. It is made from 600D ShoreMaster polyester, which is coated with PU and has been treated to reduce UV damage and mildew. It's got a slightly more limited range of color options than some other covers, but the various sizes fit a wide range of hulls. What's more, one is specifically designed with a cut-out for offboard motors.
It's also clearly been designed with trailering in mind, as it has a number of extra features that make it a great choice for cruising down the highway. It has a reinforced interlining on the front and rear corners, which helps reduce abrasion damage from the winds encountered at high speeds. The straps are stitched in all the way round the cover, which spreads the pressure more widely and reduces stress on the fabric. They are also long enough to attach to most trailers.
Possibly one of the best features is the reflective surface sewn into the outside of the rear of the cover, which really shows that this is a bona fide trailerable cover. It also has air vents at the rear, which help to avoid moisture and mold building up, as well as top seams that are reinforced with 1-inch poly-web straps. All in all, this is a great pick.
Classic Accessories Boat Cover
Slightly more expensive than other similar covers, this offering from Classic Accessories is still definitely worth a look. It's sturdy, looks good, and it even comes with a support pole to help avoid pooling.
Review
While you might have to pay a little more for this cover, it could well be worth the extra outlay. The cut is designed with bow rails and other accessories in mind, though the largest size does come in a bit shorter across the beam than the promised 116". The 600D StormPro polyester material is durable and will hold up well against the rain as long as you avoid pooling.
One thing that this cover has over the competition is the included support stand to help avoid exactly that problem. This is a great touch, though the stand itself is a little flimsy and could do with being somewhat reinforced.
The rear air vents have built-in stiffeners, which help to ensure airflow under the cover. They also lower the likelihood of mold growing and reduce wind pressure on the cover when at speed. This cover is a good all-round choice and likely to last a good while, as shown by the impressive 5-year warranty.
Anglink Boat Cover
While Anglink's cover is more expensive than some of its competition, you get what you pay for. Its waterproofing is excellent, as it can stand up to 2,000 Pa, and it has waterproof strips under the seams to prevent seepage. All this makes it a great choice if you expect to be driving in the rain.
Review
This boat cover has had an impressive amount of attention put into the water-resistance characteristics. Its 600D ripstop polyester canvas material is strong, durable, and can hold out an impressive amount of water. The double-stitched seams have waterproof strips, which prevents water from seeping through from the surface.
While it only comes in black, the color will last well and hold up to constant exposure to sunlight. That said, black does absorb more heat from the sun, so internal surfaces may get quite hot if it's in the sun for a long time.
There are 11 straps included that are stitched near the hem, and both the straps and the quick-release buckles are made of durable materials, which helps them to last well in bad weather. This is a good choice if you live in a particularly wet part of the world.
Final Verdict
While all of these covers deserve a place on our list of the best boat covers for trailering, our stand-out pick has to be the Leader Accessories boat cover. It's the one with the most attention paid to reinforcing the material for the stresses of highway speeds. On top of that, it has a number of clever touches that show that it's a proper trailerable cover that will last the distance.