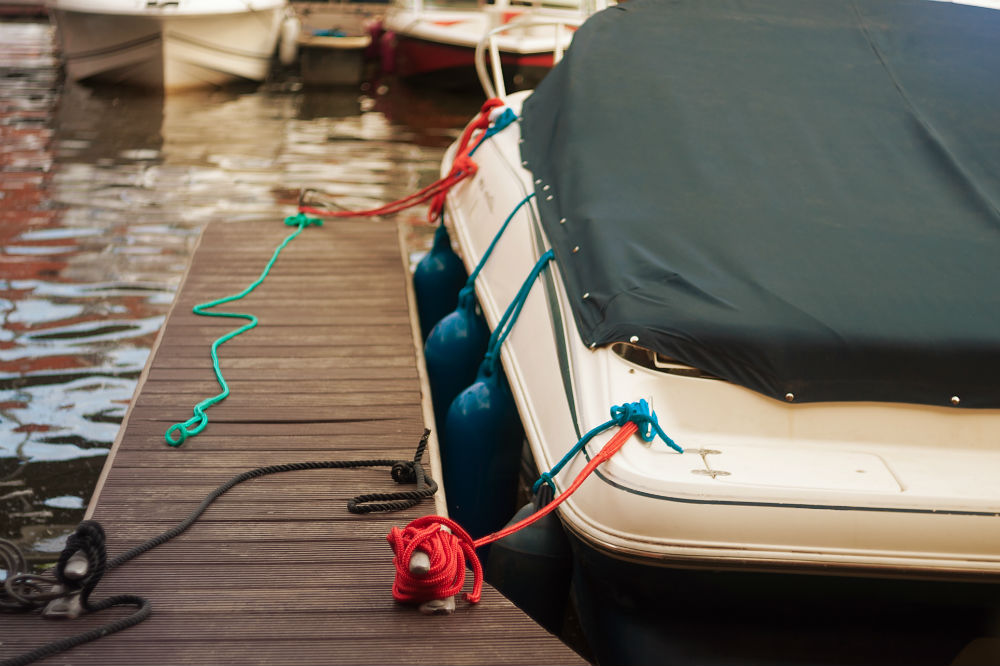 If you own a boat, keeping your investment well-protected is likely one of your top concerns. Whether it's moored, trailered, or stored away for the long term, finding the right cover for the right price is important if you don't want to be replacing it every year.
In this article, we'll take an in-depth look at five of the best boat covers currently available on the market. You will also learn what you should look for in a boat cover and find answers to some frequently asked questions about boat covers.
Best Boat Covers
Comparison Chart
MSC Heavy Duty 600D Marine Grade Polyester Canvas Trailerable Waterproof Boat Cover
PrimeShield Heavy Duty Boat Cover for V-Hull Runabouts
iCOVER Pedal Boat Cover- fits 3 or 5 Person Pedal Boat 
Anglink Waterproof Boat Cover, Heavy Duty 600D Polyester 
Budge B-621-X7 Gray 22′-24′ Long (Beam Width Up to 106″) Boat Covers
Best Boat Covers Reviews
MSC Trailerable Boat Cover
This medium-priced boat cover comes from MSC and is suitable for trailering, mooring, and for long-term storage. It's a solid, reasonably priced, middle-of-the-road option that stacks up well against the competition.
Product Highlights
These covers look great, and they come in a good range of colors and sizes, so you should be able to find one that suits your needs. They're also light and easy to fit, which is great if you're doing it solo.
The weight is a real plus, as it is much lighter than denser canvas covers. Combine that with the quick-release buckles and straps that come with it, and you should have no trouble fitting it to your boat by yourself.
Made of polyester canvas, it is well-built and durable thanks to the double-stitched seams. As long as you avoid letting water pool on it, the double coating of polyurethane will keep out the rain.
The Good
Its 600D thickness means that it is pretty durable, and the elasticated cordage around the bottom hem reliably and snugly fits a multitude of hull shapes, including custom designs. Even so, it's lightweight enough for one person to handle, and the adjustable straps are easy to get the hang of.
The Bad
The blue covers tend to fade in constant sunlight, but as they have a range of colors, you can always select another. It doesn't have any vents, which isn't ideal in more humid climates. Sizes also tend to run a bit small, so it might be worth buying the next size up. Don't worry, though – if the first one you buy is too small, the manufacturer will replace it with a larger one.
PrimeShield Boat Cover
A low-end polyester cover made by PrimeShield, this one is a great choice if you're on a budget. Seeing as you could buy around eight of these for the price of one high-quality custom cover, it's not a bad idea to consider buying a few to be prepared for the long term, especially if you find it on sale.
Product Highlights
The price, first and foremost, is the main draw for this cover, but is by no means the only one. The vents on the cover, combined with the breathability of the material, help to reduce the amount of moisture trapped under the cover after it is fitted. This keeps air flowing, which reduces the chances of mold and mildew ruining your furnishings.
It is also impressively durable for the price, with double-stitched seams and varying thicknesses available depending on the conditions you're expecting to expose it to. Of course, the thinner version is cheaper.
The Good
Both the durability of the material (available in 300D and 600D), and the strength of the stitching are respectable, and the straps and buckles make for a simple fitting process. The addition of vents on either side helps to keep it free from moisture buildup and mold. And, again, it's super-cheap for a cover of such good build quality.
The Bad
The cover doesn't come with instructions or a guide, so it can be tricky to work out where the front is for some. Unlike some other covers on the market, it might not be a good choice for use on a trailer, but it should be fine for shorter trips.
iCOVER Pedal Boat Cover
For those who prefer to power the boat themselves, this cover from iCOVER is a good choice available at a reasonable price. Its 210D reflective polyester material will help to keep the sun off your boat, while the heavy cording will ensure it fits snugly and stays on in the wind. Plus, it's very easy to fit.
Product Highlights
Simple to use, lightweight, and fairly durable considering the less dense material, this cover will protect your pedal boat from all but the worst that the weather can throw at it. It's also reflective, helping it to last longer in sunlight. It's pretty easy to clean, too, which is a bonus.
The waterproofing is solid, managing to keep out drips even when water pools on the surface of the cover, and the elasticated cord in the hem will help ensure it stays in place. Considering the relatively low price, it has got a good build quality and should last you a while.
The Good
Easy to attach and durable enough to survive most conditions, this is a good choice for paddle boat owners on a reasonable budget. It'll reliably keep the sun, rain, and debris off your boat without breaking the bank. The one-year warranty should help with peace of mind as well.
The Bad
This cover is not designed for trailering, as it lacks straps or buckles to keep it in place in high winds. You'll need to put some supports in, such as a 5-gallon bucket or a large inflatable ball, to help prevent pooling water.
Anglink Waterproof Boat Cover
This mid-range option from Anglink is a good choice for the money, as it stands up well to adverse weather. It has a superior waterproofing performance than much of the competition and holds its color well. The 3-year warranty shows impressive confidence on the part of the manufacturer.
Product Highlights
One of the best options for waterproofing on a medium budget, this cover will keep the water out even if it manages to pool on the surface. You don't have to worry about it seeping through the seams either because, unlike with other covers, they are sealed with a waterproof strip.
The straps are sewn into the cover, which provides more durability and security when trailering, as well as extra security in windy conditions. They're adjustable, too, so you can be sure of a proper fit. Plus, the cover is made of Oxford-woven polyester, which makes it extra-resistant to tearing.
Unlike some covers, the color will not fade as fast in the sun or rain, and it won't stain the surfaces of your boat. This is reflected in the length of the warranty.
The Good
Despite only coming in one color, it's hard to deny that this cover looks good. Even better is that it will stay looking like that for a good long while. The superior waterproofing and stitched straps are some of the best things about this cover, as you don't have to worry about it even in the worst of rainstorms. The mesh storage bag is also one of the better free ones, as it easily fits the cover when it's not in use.
The Bad
As good as this cover is for the price, it would be even better if it came in a larger range of colors and sizes, as it won't be of use to people with longer hulls. The lack of vents is also not ideal, though the breathability of the fabric should minimize the impact of this issue.
Budge B-621-X7 Boat Cover
Budge invented the car cover back in the 1940s, and this experience shows in this higher-end boat cover. It's a bit pricier than some of the other options around, but at less than one-third of the price of a custom cover, it's a great pick and surely one of the best boat covers on the market. Its durability and roominess make it a good choice if you've got a bit extra cash to splash on a cover.
Product Highlights
The B-621-X7 cover is more generous in size than some of the competition, meaning you'll be able to work on the boat under the protection of the cover in inclement weather. It's available in 600D and 1200D versions, the latter of which is even better for places like Florida where the sun and rain can both be more extreme.
This cover has been known to survive tropical storms and even hurricanes, which is impressive for a non-custom cover. It's not a huge surprise though, as it has all the trappings necessary to make it last out the weather. An extra smart touch is the material fitted around the buckles, which helps to avoid scratching your boat.
This is one of the better options for trailering, as well, as the heavy-duty cord around the hem and stitched-in straps and buckles survive well under heavy wind. Plus, with a 10-year manufacturer's warranty, you can be assured it will last.
The Good
The straps and buckles are fully sewn to the cover, the seams are double-stitched and taped, and the elastic cordage around the hem is heavy-duty shock cord. The material is UV and PU-coated to protect from the weather while still being breathable, and there are vents to prevent moisture buildup. All of these make for an excellent all-around cover.
The Bad
This cover would benefit from reinforcement on areas that receive the most stress, though this can be mitigated by stitching in more material or using a towel or similar to reduce the wear. There are also occasional issues with build quality, though the manufacturer is quick to replace covers that have faults, and these seem to be fairly rare on the whole.
Buyer's Guide
When buying a cover for your boat, it's important to know what conditions the boat is going to be stored in, as well as what you'll be expecting to do with the boat when it's covered. For example, if you're not going to be trailering, you don't need to worry so much about straps or reinforcements on stress points. The thickness of the material, color, and effectiveness of the waterproofing will all come into play as well.
Types (Storage vs. Trailering)
Storage covers are generally looser fitting than ones designed for trailer usage. They're suitable for boats that will be kept at the dock or at anchor, or if you plan on keeping it on a trailer without transporting it.
Covers designed for trailering are generally more tightly fitted, and the best ones are reinforced in areas that will see high wear when exposed to the rigors of motorway travel. The powerful winds the covers are subjected to at high speeds mean they need to be more robust, and covers without reinforcement may wear out more quickly.
Size
Ensuring your cover is big enough to fit over the whole boat can make the difference between a pristine vessel at the start of the season and a moldy, stained, rusty mess. It's vital to take your boat's measurements before purchasing a cover and ensure that the cover you are looking at is designed to accommodate the specific shape of the hull.
Even if the cover is supposed to fit your boat, it's worth keeping in mind that custom hulls and consoles might cause some issues. Plus, if you've got a large outboard motor, a diving board on the back, or similar bells and whistles on your boat, the cover might not be designed to accommodate them, and you might want to consider either buying a separate cover for them or going a size above.
Overcompensating for the size of your boat can be helpful in these situations, but it's not always ideal, as it can result in too loose a fit, which can especially be a problem in windier conditions. Too small a cover will likely leave unexpected holes in your protection, so it's a fine balance to tread, and making sure you're buying the right size cover for your boat can help to avoid these pitfalls.
While buying a custom-made cover for your boat will help ensure you get a perfect fit, they will rarely be available for under $1,000. This makes buying a pre-made cover like those on our list a much more affordable option that can work just as well, as long as it's the right size.
Materials
The type of material and its thickness is likely to have the biggest impact on the price of your cover (other than getting it custom-fitted, of course). A thinner cover with a lower denier (D) rating will be lighter, easier to fit solo, and cheaper. It'll also be less durable, likely somewhat less water resistant, and won't hold out as well against harsher environmental conditions.
If you're storing your boat somewhere with extreme sun, rain, wind, or snow, you'll want to be looking at a minimum of a 600D cover, though the heavy weather can reduce the lifespan of the cover considerably. Consider looking at models with 1200D or more to ensure a longer life for your cover and thus also the boat underneath.
The stitching is also worth your attention, as any covers with single stitching on the hem will be less robust than those that are double stitched. If you're going to be trailering your boat, you'll want to make sure you've got the most durable, well-reinforced, and thick cover that you can afford. This will save you from having to buy a new one when it rips under the pressure of the wind.
Waterproof
What's the point of covering your boat if it doesn't keep out the rain? Unless you live in a desert (in which case, why do you have a boat?), you'll want to ensure that the cover you buy will be able to hold out the dampness.
While many covers market themselves as 'waterproof,' it would be fairer to say that they are 'water-resistant.' Consider a single-layer camping tent – they will keep out the rain, as long as it's not allowed to pool on the surface. If water pools, the water pressure can be enough to overcome the material's resistance, and so you'll get drips.
The same is true of boat covers, so if the cover doesn't fit tightly above the hull, you'll need to look at cover support solutions to ensure the polyurethane coats don't have to hold out more than they can manage.
Some covers also suffer from seepage along the seams. If they are not designed well, the water can essentially wick in from the outside and start dripping inside. Double stitching and waterproof taping over the seams are things to look out for if you're expecting your boat to be subjected to heavy rains.
Color
Other than esthetic considerations, the color of your cover can be more important than you might expect. Under constant beating of the sun, lighter colored or white covers will help to keep more heat from hitting your boat, but at the cost of a reduced lifespan. Reflecting all those UV rays can damage them more quickly and thus weaken the material.
Darker colors will result in a hotter environment under the cover, but will hold out better when stored out in the sun. You might find that the color fades more quickly, so it's worth checking out the color- and light-fastness of the product before you buy.
Dull as it may sound, gray is a good compromise, as it is more UV-resistant than white covers, shows less dirt, and won't trap as much heat as black covers.
Boat Cover FAQ
How to cover a boat
There are a few different ways you can cover a boat. You can use a universal boat cover like those on our list, or you can pay extra for a custom-fitted cover. Alternatively, you can cover your boat with a tarp or even take it to get it shrink wrapped.
How to clean a boat cover
First, you'll want to make sure to brush off any loose dirt. Then spray it down with a hose, and use a soft-bristled brush and a gentle soap to clean off any stains, allowing the soap to soak into the fabric for a few minutes. Then rinse it off again with the hose to get rid of any remaining soap and hang it out to dry. Make sure it's fully dry before storing it to avoid molding.
How to put on a boat cover
Here is what you need to do to put on a boat cover:
Place the front end of the cover near the bow, position it in the center of your boat, and unroll to the stern.
Open the cover as you work backwards, first slipping it under the bow and then to the sides as you go.
If you have support poles, make sure they're in place before covering the whole boat. Also, ensure that any sharp areas that will come in contact with the cover are padded or that the cover has been reinforced.
Pull the cover tight so it doesn't have any slack to avoid water pooling on the surface.
Attach the cover to the boat via the straps and buckles or rope, and secure it to the trailer if it's on one.
What is the best boat cover material?
This depends on your budget, and where the boat will be stored. The best material overall is acrylic, as it can hold up for ten years or longer under the worst of conditions, though it is initially less abrasion-resistant than polyester.
Take a look at the warranty that the manufacturers offer for the cover. This should give you an idea of how long they expect it to last with no trouble, though some covers can long outperform this.
Should I shrink wrap my boat?
While shrink wrapping is a very effective method for protecting your boat, the cost can be somewhat prohibitive, especially if you're doing it year after year. It's generally a one-shot deal and can cost upwards of several hundred dollars. It's also not possible for most people to do themselves, as it requires specialized equipment.
If you plan on using your boat any time soon, it is better to buy a good cover for it than to go through the time and expense of wrapping it.
Final Verdict
While all of the options on this list of the best boat covers are solid choices, it's hard to go wrong with the one made by Budge. It has great waterproofing, it is solidly constructed, durable, and breathable, and the 10-year warranty is a statement from Budge that they expect it to stand the test of time.
If you're on a tighter budget, though, Anglink's cover is a great choice as it has many of the same features as the Budge cover for less than half the price. Just remember, though, that as with anything, you get what you pay for. You probably shouldn't expect a cheaper cover to last as long or perform as well in extreme weather as a more expensive option.