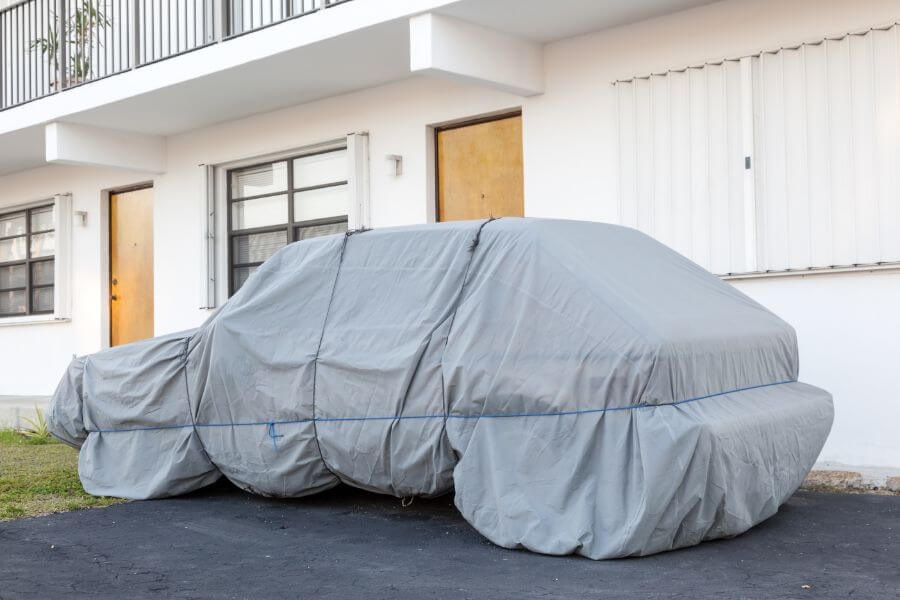 You might think that your car is safe when parked indoors. Although storing your car in a garage eliminates countless outdoor elements that can harm your vehicle, it still isn't 100% protected. There are many indoor environmental hazards that you still need to worry about such as dust, dirt, moisture, etc. All of them can damage your vehicle in many different ways.
You can eliminate all those risks by using a high-quality car cover. This article will provide a complete review of the Budge BSC-4, a car cover worth considering.
Budge BSC-4 Car Cover
The Budge BSC-4 Car Cover has been on the market for several years. Given the fact that this car cover is still around simply says a lot about its quality. This well-known car cover is made by Original Car Cover Company, which has been in the business since 1940.
The Budge BSC-4 is made for a specific purpose – to protect car owners' vehicles from all harmful indoor elements. Therefore, the manufacturers made sure to use high-quality materials. They are the very reason why the Budge BSC-4 has such good protective features.
This car cover is made for vehicles up to 228" long. There are several size options, so you can choose the one that will fit your car perfectly.
In case you are on a budget, the Budge BSC-4 is definitely not the cheapest option. However, if you've invested a lot of money in your car, you might as well invest in a slightly pricier car cover, especially if it comes from Original Car Cover Company. They are one of the main suppliers of protective covers to the US military, so you know you're getting a quality product.
Who is this product for?
The Budge BSC-4 is specifically made for indoor usage, so it isn't advised that you use it against outdoor elements. For example, you won't find this car cover effective against heavy rain as it isn't designed for severe weather conditions.
Regardless of whether nor not you often find your car covered in dust in your garage, the Budge BSC-4 is a good car cover to have.
What's included?
Simply measure your car and see if its size is supported by the Budge BSC-4 Car Cover. Select the size that you want and your Budge BSC-4 Car Cover will arrive in no time.
You will receive a large storage bag for free; however, you won't receive any other additional accessories in the package.
Overview of features
The materials are always key when it comes to high-quality car covers. You can rest assured that the Budge BSC-4's materials are absolutely fantastic for indoor purposes. It features breathable materials which are excellent against mildew and mold.
The materials provide absolute protection against the most persistent indoor elements such as dust, dirt, and moisture. The car cover is also effective against tree sap and pollen. There are two main materials in the Budge BSC-4: polyester and nylon. Blended together, they give a very soft yet durable car cover.
The Budge BSC-4 is extremely lightweight, allowing you to easily carry it around and install it rather quickly. Although this car cover is lightweight and thin, it has additional layers that make it thick in places that count.
The material is stretchable enough to easily adjust to the form of your vehicle, proving you a good custom fit.
This car cover features an elasticized hem that servers to keep your car cover in place.
There are several size options:
For cars up to 170" long
For cars up to 200" long
For cars up to 228" long
For cars up to 264" long
The Budge BSC-4 Car Cover comes in three different colors: black, red, and gray. The only downside to this car cover is its price as it is quite expensive. However, investing in the Budge BSC-4 could be a good idea as it will last for several years.
How to use
The Budge BSC-4 is installed just like any other car cover. Place it on top of your vehicle and start unfolding the car cover in the direction of your choosing. Make sure that you cover everything and that your car cover goes to the bottom of the vehicle.
The installation is very easy and shouldn't take more than a few minutes.
Alternative
If the price is your only concern, then you might be interested in the Seazen car cover. The Seazen car cover is much cheaper while offering excellent features. This car cover can be used for both outdoor and indoor storage.
Conclusion
The market is full of cheap, low-quality car covers that rip or fall apart after just a few weeks. With that in mind, you need to know which car covers are worth looking into. The Budge BSC-4 is one of those car covers. However, not everyone will be able to afford it, so it's up to you to decide if this car cover is a good investment for you.