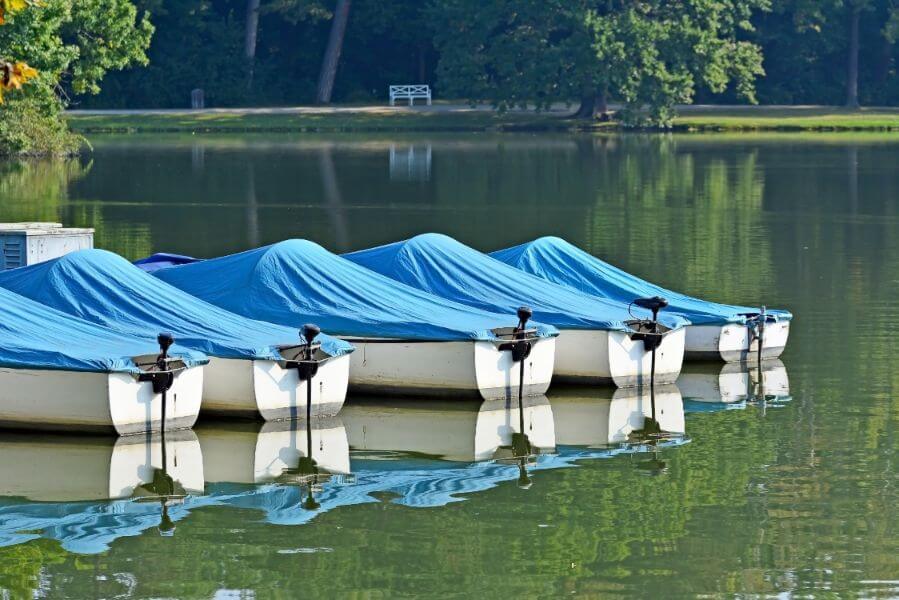 Buying a boat is never cheap, and no boat owner wants to have to constantly repair their vessel after it's been exposed to too much bad (or good!) weather.
There are a few options for protecting your boat. The cheapest, and least reliable, is covering it with a tarp, while the most expensive way is to buy a custom-fitted cover.
If you're looking for a middle ground, you've come to the right place. In this review, we'll be looking at one of the better options for a universal boat cover that won't break the bank.
EmpireCovers Aqua Armor Boat Covers
This heavy-duty boat cover from EmpireCovers is designed to fit a range of hull types and will protect from rain, wind, snow, and the sun. It comes in an impressive array of sizes, so you should be able to find one that will cover your boat.
Who is this product for?
This cover is designed for boat owners who don't want to spend a huge amount on a custom cover, but are willing to pay a bit extra to make sure that their universal cover is going to do its job proper for a good few years. It's a bit pricier than some on the market, but with covers you often get what you pay for, and this one comes with a decent set of features.
What's included?
Here's what you can expect to get if you buy this cover:
1200D marine-grade polyester cover – PU and UV treated
Tie-down straps with protective sleeves
Elasticated hem – heavy-duty shock cord
5-year warranty
Storage bag
It doesn't ship with an included support system, which you'll need to keep water from pooling on the surface of the cover during heavy rainfall. You'll probably want to either purchase one separately or find a solution from things you already have, like PVC piping or an upturned garbage can.
Overview of features
Compared to many other universal covers, the Aqua Armor boat cover has a number of features that make it great for keeping the elements away from your vessel. The 1200D thickness of the cover is double that of most other covers on the market, and it is both UV and PU (polyurethane) treated.
The seams are double stitched and backed up with a waterproof strip, which will prevent water from seeping through these potential weak spots. The cover also has sewn-in vents, which help to keep airflow from going under the cover. This will reduce moisture buildup and help to prevent any mold from growing.
The cover is also trailerable, as it comes with a good number of tie-down straps. In a neat touch, these have protective sleeves over the buckles, which will help them to last much longer. There's no reinforcement in areas that will receive high stress during trailering, but the thickness of the material will go some way to mitigate this issue.
The hem has been fitted with heavy-duty shock cord, which will help ensure a tight fit around the side of the boat, and the cord itself is durable and should last for the lifespan of the cover. This is at least 5 years, if the impressive 5-year warranty is anything to go by.
The cover comes in a very impressive array of sizes, from 12'-14' long and 68" wide covers for smaller boats, all the way up to 24'-26' long and 106" wide covers for bigger boats. There are loads of options in-between, and unlike many others on the market, they have different widths available, including ones that are aimed at center console boats, V-hulls, and Jumbo hardtops. The color range is limited, but that's not a huge issue considering what you get for your money.
While it's a shame it doesn't have a support system included, that's a problem you can easily solve yourself with a bit of ingenuity or some more money.
How to install
If you need some tips on how to fit your boat cover, have a look at this guide on YouTube:
Alternative
If you're looking for a slightly cheaper option that will still protect your boat well, you might want to check out the Leader Accessories boat covers. They've got many of the same features as this cover for about half the price, though they also come in at half the thickness and thus might not last as long.
Conclusion
The EmpireCovers Aqua Armor boat cover is a great option for protecting your boat from all the worst the weather can throw at it, while still being much cheaper to get your hands on than a custom-fitted cover. If you don't mind paying a bit more than the average universal cover, then you'll be happy with the extra protection it can provide over cheaper options.