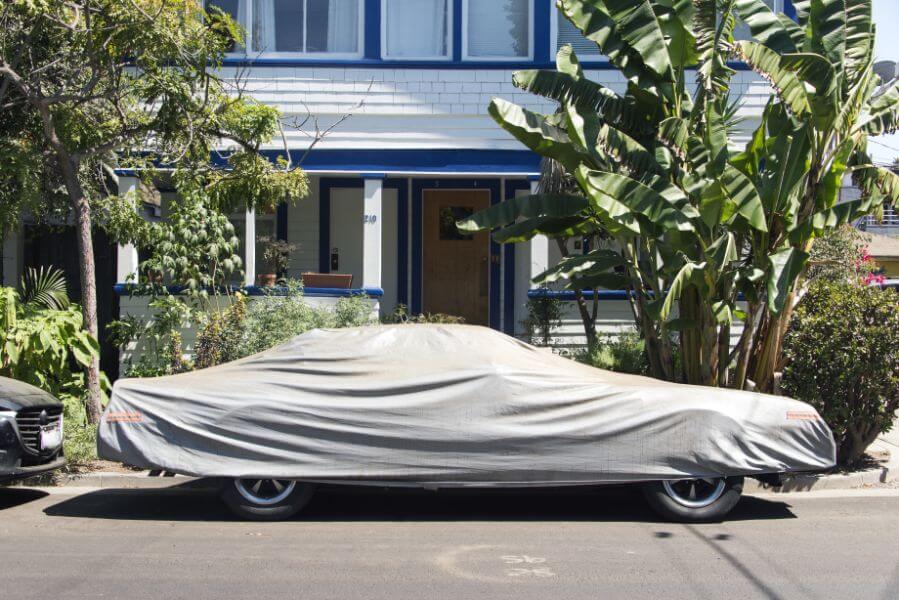 Bad weather is a well-known issue that can damage your vehicle in a matter of seconds. All that it takes is for your car to be left exposed to the sun, and its paint can easily get dulled. Of course, harmful UV lights aren't the only things you should be worried about.
The product that can help you win the battle against severe weather conditions is a good car cover. With that in mind, this article will present you a reliable car cover that will protect your vehicle even in the most extreme weather conditions – the Hail Protector.
Hail Protector
The Hail Protector is not your typical car cover. This car cover brings exciting new features to the table that not only protect your car but look great as well.
Since its release in 2013, this product has gained massive popularity. It has been featured on some of the most popular TV channels such as History, Discovery, and The Weather Channel. Aside from those channels, the Hail Protector has been mentioned countless times on newscasts across the US and in several online media platforms.
Although this car cover was invented a few years ago, it is still considered quite innovative and advanced.
Its goal is to provide absolute car protection even while facing some of the harshest weather conditions. The manufacturers have definitely considered all security factors.
This car cover is quite expensive but you shouldn't really cut corners when it comes to these types of products, especially if they are as good as the Hail Protector.
Who is this product for?
The Hail Protector car cover is made for everyone who wants to protect their vehicle from harmful outdoor elements that can cause severe damage. It can even be used indoors (against moisture, dust, etc.) provided that you have enough space, seeing as it's inflatable and thus takes more room than most regular car covers.
If you are sick of the same old car covers that aren't completely water- or windproof and that can be easily damaged, then the Hail Protector is the right choice for you.
This car cover is ideal for people who live in areas known for extreme weather conditions. The Hail Protector is also effective against theft and burglary.
What's included?
If you order this product, you will receive the Hail Protector car cover that perfectly fits your vehicle. There are multiple size options, so you won't have trouble finding a perfect match for your vehicle.
Alongside your car cover, you will receive the following:
AC adapter
AA battery holder (NIMH rechargeable) for an hour of operation
AC plug protector
Remote control module
Car accessory power cord for three hours of operation
Storage bag
The car accessory power cord can function without depleting the starting power of your car. The remote control module is used for activation at a distance.
Besides the essential equipment, you will also receive the retracting tape measure.
Finally, if you order the Hail Protector car cover, you will get access to their very own weather app. This app has two main features: Hail Forecast and Early Warning. You can use those features and the apps notifications to know exactly when bad weather is going to strike.
Overview of features
The Hail Protector is a unique car cover that can protect your car from severe weather conditions. Due to its high-quality materials, this car cover is effective against heavy rain, dust, heavy winds, UV lights, bird droppings, etc.
This car cover's waterproof and windproof capabilities have been tested against all sorts of outdoor elements. The Hail Protector outstood them all, including 60 mph winds.
There are currently six available size options, which are more than enough to ensure that you find a perfect fit for your vehicle. You can choose between the following:
CAR1 – which goes up to 175" in length
CAR2 – which goes from 176" to 195" in length
CAR3 – which goes from 196" to 211" in length
SUV1 – which goes up to 197" in length
SUV2 – which goes from 198" to 233" in length
SUV3 – which goes from 234" to 270" in length
As you can see, the Hail Protector can be used for sedans, hatchbacks, vans, minivans, trucks, wagons, and SUVs.
The Hail Protector car cover features a silver color layer for heat resistance.
In case you decide to order the Hail Protector car cover, you will receive a 1-year parts and labor warranty. A large storage bag arrives with every order. You can use it to easily store your Hail Protector and carry it wherever you want and need.
This car cover is easy to use. Once you inflate it, it will cover your entire vehicle, providing complete protection. You can control the Hail Protector via its remote controller.
Hail's very own mobile app will tell you the exact forecast for the entire USA. You can use that to be fully prepared and ready ahead of time.
The Hail Protector is known for being quite durable. It is estimated that this car cover should last anywhere from three to five years with proper handling.
How to use
The Hail Protector installs just like any normal car cover.
You should cover your vehicle's rearview mirror pocket first.
Then, roll your car cover and cover the vehicle's front.
After you've done that, cover your vehicle's rear side.
Once your entire vehicle has been covered, plug in the power cord and inflate the Hail Protector car cover.
Depending on your vehicle's size, the installation process should take anywhere between 5 and 7 minutes.
Alternative
Although the Hail Protector is an excellent car cover with fantastic features, it might be too expensive for some people. If you want to protect your car against bad weather conditions while paying less, then the YIBEICO car cover might be the perfect option for you.
The YIBEICO car cover is much less expensive and offers excellent features. This car cover isn't inflatable, but it can serve as a good alternative to the Hail Protector.
Conclusion
Your car is your responsibility. Therefore, you should provide it with a good car cover. The Hail Protector has everything you should look for in a top-notch car cover. Now that you know exactly what to expect from the Hail Protector, it's up to you to decide if this is a worthy investment. Before you order it, make sure that you know the exact measurements of your car.