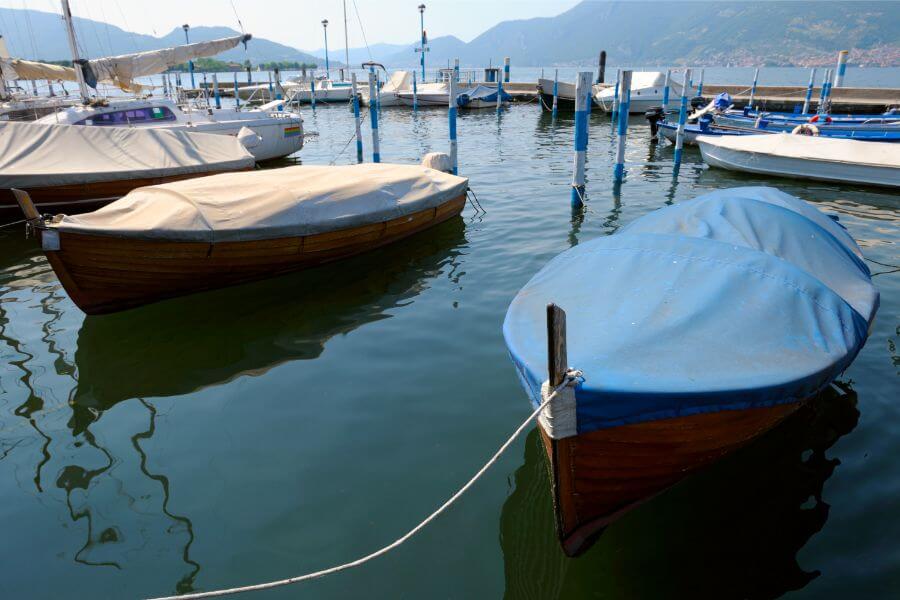 As any responsible boat owner knows, protecting your vessel from the elements when it's not in use is of prime importance. After all, no one wants to come back to a wet, moldy boat when it's time to head out onto the water.
However, custom-fitted boat covers can cost upwards of $1,000, which is a lot to lay out. That's why many boat owners are on the lookout for a durable and reliable cover in a more reasonable price range. This article will take a look at one of the better options available.
Kohree Trailerable Boat Cover
The Kohree trailerable boat cover is designed to protect a range of different hull types from the rain, sun, and any debris that might have otherwise fallen directly onto your boat. It's relatively a newcomer to the market, having been released in early 2019
It's suitable for trailering, long-term storage, and leaving your boat moored at a dock. It's also one of the cheaper covers available – you could buy 10 of these for the price of a single custom cover.
Who is this product for?
This boat cover is aimed at boat owners on a smaller budget who don't want to compromise on the protection provided to their vessel. If you need some flexibility in your options, be it storing it away long-term or driving your boat down the highway, you're the kind of person the manufacturers had in mind.
What's included?
As well as the cover itself, you also get a draw-string storage bag, which is ideal for keeping the cover tidied away when it's not in use. Just make sure the cover is dry before putting it away.
Also included are nine adjustable straps with quick-release buckles for tying the cover to a trailer. The cover also comes with a handy manual to help you fit it properly and guide you on how to effectively maintain it.
It doesn't come with any sort of supports, which are important for helping certain hull designs avoid letting water pool on the surface (which can compromise water-resistance), so you might want to consider purchasing supports separately or making some yourself.
Overview of features
Kohree's cover is made of 600D marine-grade polyester canvas, which has a layer of UV coating, along with a double layer of polyurethane (PU) coating on the inside of the material. This helps to protect it from the sun and to keep rain and moisture out.
The fabric is durable, which is a must for a good boat cover. It's made more reliable by the inclusion of interlocking double-stitched seams sewn with marine-grade thread, which helps to ensure that the cover can hold its own against the potentially damaging winds that will bombard it at motorway speeds. The hem is elasticated, which ensures that the cover makes a tight fit around the hull of your boat.
There is an integrated adjustable strap system made up of nine straps that can be attached to the tie-down loops sewn into the hem. This is more straps than many of Kohree's competitors, though not as many as some of the higher-range offerings. The straps are tough and should hold up well, though it would be even better if they were stitched over the top of the cover like others, as this would improve damage resistance while trailering.
It also is missing reinforcement at the corners, which could potentially cause issues when trailering. You could either reinforce it yourself, pay someone else to do it for you, or else you can pad the sharper surfaces of your boat to reduce damage from abrasion at high speeds. Some vents would also have been a welcome addition to help reduce moisture buildup, so you might need to work out a method to encourage some airflow.
The cover is designed to fit V-hull, tri-hull, fishing, ski, and pro-style bass boats, and it comes in a choice of beige or gray. While not the most exciting colors, they both have better UV resistance characteristics and less likely to fade than many other hues.
It comes in two sizes:
Boat length – 14'-16'; Beam width – up to 68"
Boat length – 17'-19'; Beam width – up to 96"
It also comes with a 2-year warranty, which shows that it should last for a good while, and it is available for shipping worldwide.
How to install
Check out this YouTube tutorial to learn how to easily install your universal boat cover:
Alternative
For around the same price, you might want to look at the Leader Accessories Trailerable Boat Cover, which has some of the features missing from Kohree's cover. For example, it has rear-facing vents, as well as reinforcements at the front and back corners. It also has reflective surfaces on the back of the cover, which is a great touch if you're driving home at night.
Conclusion
Kohree's boat cover is a solid purchase for your money. It should be all you need to protect your precious vessel from the damaging effects of wind, rain, and sun for a few years. However, as with all universal boat covers, you'll want to make sure you have some sort of support to avoid water pooling on the surface.