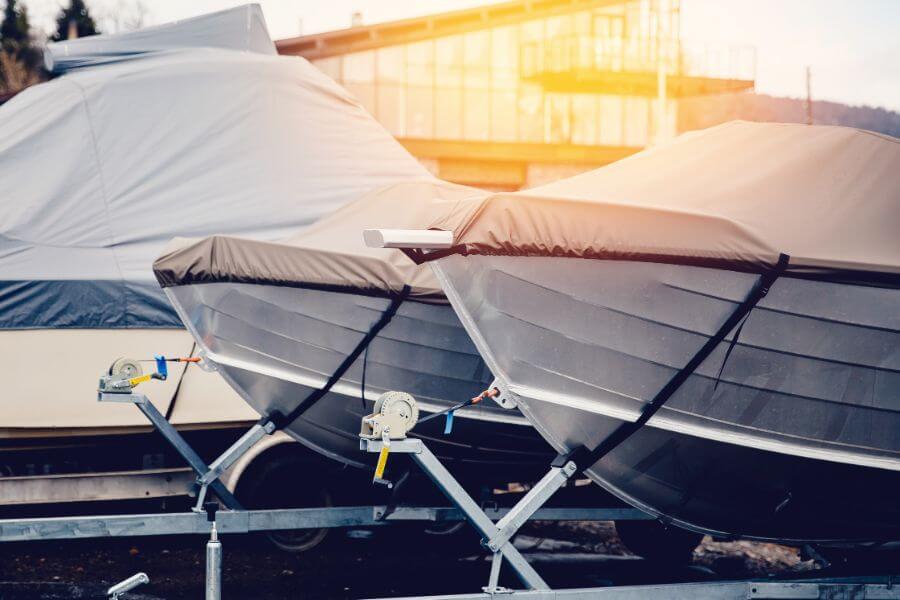 Once you've laid out a load of cash on a boat, the last thing you want to be doing is spending a fortune or repairing and refurbishing it. If you leave your boat to be assaulted by the elements, though, this is exactly what you'll have to do.
While you could go cheap and just cover it with a tarp, this won't do much to protect it. And, considering that a custom cover can easily cost over $1,000, you might want to go for the middle-ground: a universal boat cover.
RVMasking Boat Cover
This mid-range cover makes a good compromise between price and function, and is designed to protect your vessel from the elements without costing a fortune. It is thicker than many options in the same price range, and is also waterproofed, UV resistant, and vented. It's suitable for long-term storage, mooring, and trailering.
Who is this product for?
This cover is aimed at owners who don't mind paying a bit more for their universal cover but don't want to spend loads for a good range of functions. It's durable, reliable, and should last for at least five years. It's a particularly good pick if you're looking for a trailerable cover. In fact, it's more durable than most covers around the same price, which means that it will be more rugged on the road or under the rain.
What's included?
When you purchase an RVMasking boat cover, here's what you will get:
800D marine-grade polyester cover – PU and UV treated
11 adjustable straps with metal buckles
Elasticated hem
Motor cover – 29" long, 17" wide, 29" tall (doubles as storage bag)
5-year warranty, 90-day money-back guarantee
It doesn't come with a support system to stop water from pooling on the cover in heavy rain, so you'll probably need to buy one or make one yourself at home.
Overview of features
The cover is made from 800D-rated marine-grade polyester, which is 200D more than many other covers at a similar price point, making it more durable and improving the waterproofing. It is also coated with PU (polyurethane) as well as being UV treated, which helps protect it from rain and sun. The seams are double-stitched, which helps to improve their durability under stress from wind or trailering, and they have a waterproof strip on the inside, helping stop water from seeping through during heavy rain.
Speaking of trailering, the cover is reinforced at the front and rear corners, which protects it from abrasive damage caused by traveling at speed down the highway. It also comes with 11 adjustable straps for tying it down, along with an elasticated hem, which makes the fit more secure when trailering or at the dock.
One of the major pluses of this cover is that the buckles are made of metal, whereas most others are made from plastic, which really increases how strong they are and how long they'll last. Both of these features make this a better cover for trailering than some similarly priced covers.
The cover is made from breathable material and also has vents on the rear, both of which help to reduce the buildup of moisture and prevent mildew and mold from ruining both your upholstery and the cover itself. This will save you a lot of money in the long run, as one of the main issues with many universal covers is the lack of airflow.
It doesn't come with a support system, which is necessary for stopping water pooling on the surface, but that's pretty easy to solve – you can either buy one separately or use something like PVC piping to make a frame. Alternatively, you can just turn a garbage can upside down and put it under the cover.
How to install
If you're looking for a guide on how to easily install your universal boat cover, have a peek at this YouTube tutorial:
Alternative
If this cover isn't available in a size that will fit your boat, or if you live somewhere that has really bad weather, you might want to take a look at the EmpireCovers Aqua Armor boat cover. It's a bit pricier, but the material is even thicker at 1200D, and it will keep out the worst the weather can throw at your boat.
Conclusion
The RVMasking boat cover is more durable than many others on the market for a similar price and is more suitable for trailering than most of them. If you're looking for a reliable and long-lasting universal boat cover, you will find it pretty tricky to do better for your money than this, though the limited range of available sizes might force you to consider other options.