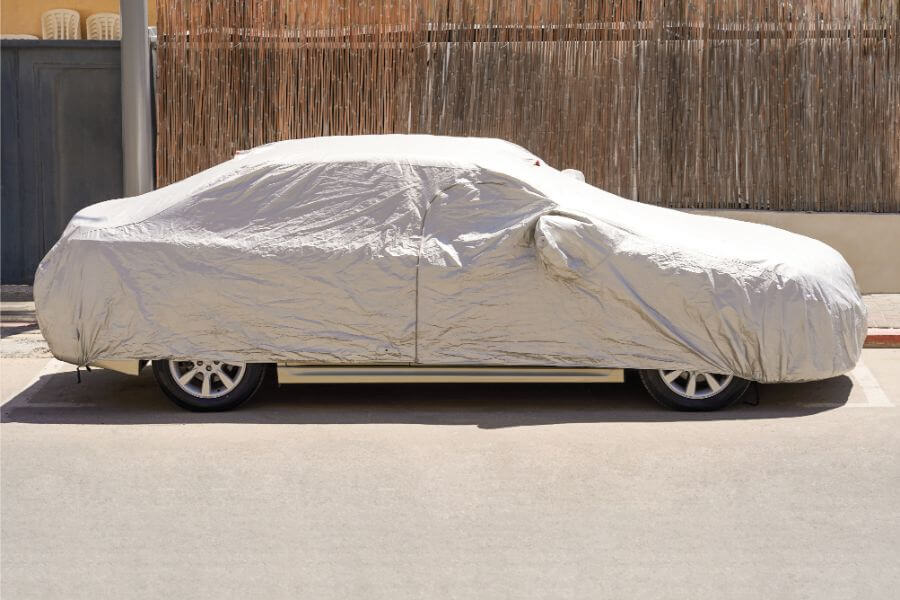 Bad weather conditions are your No. 1 enemy if you store your car outdoors. Your car can easily be damaged overnight due to a sudden storm, and as you know, storms can be quite unpredictable.
Since a car is an expensive investment, you shouldn't take any risks and rely solely on weather forecasts; taking extra precautionary measures seems like the logical thing to do. In this article, we will provide you with a detailed review of the Seazen Car Cover.
Seazen Car Cover
If you're looking for a newer car cover model that has all the necessary features, you are at the right place. The Seazen Car Cover was released in late 2018 and has already attracted the attention of many car owners. From the looks of it, its popularity is only continuing to grow.
This product's goal is to help car owners safely store their cars outdoors, and it has all the right features to do so.
To save time on the installation, the manufacturers have made their product's design very user-friendly. There are additional features that will lower the theft risk and also keep your car visible to prevent car accidents at night.
The Seazen's current price is just slightly above average. However, it is still in a reasonable range even for those who are on a budget.
Who is this product for?
The Seazen Car Cover isn't limited to a certain type of customer. It is meant for anyone who wants to protect their vehicle against harmful outdoor factors, no matter how severe they are.
It goes without saying that you can also use this car cover indoors. For example, if you have a problem with dust in your garage, the Seazen Car Cover could help protect your vehicle.
In essence, the Seazen Car Cover is ideal for car owners who live in areas known for bad weather conditions. But, of course, anyone can use it to add that extra layer of protection.
What's included?
If you decide to order the Seazen Car Cover, you will receive a large storage bag. The Seazen Car Cover will easily fit into the storage bag, allowing you to carry it wherever you like. It will take very little space in your car.
Aside from that, there are no additional accessories in this package.
Overview of features
This car cover has two layers of high-quality material: aluminum and PE. The aluminum layer is an excellent UV light repellent, while the PE layer is known for its waterproof capabilities. The Seazen Car Cover is carefully stitched so that it can prevent seepage from the pinhole.
In addition to aluminum and PE, this car cover also features cotton lining to protect the surface of your car from scratches.
To sum it up, the Seazen Car Cover is:
Waterproof
Sun-proof
Snow-proof
Rainproof
Dustproof
Scratchproof
It can also prevent defoliation and protect your car against other external factors, such as insects, bird droppings, etc.
The Seazen Car Cover is designed so that it can be easily installed on your vehicle. It features a zipper that allows you easy access to the vehicle without having to remove the entire cover.
There are straps at the rear and front side that will keep the car cover safely in place even against harsh winds. An elastic tape can be found on the bottom of this car cover which will allow you to easily adjust it to fit your car better.
Finally, the Seazen Car Cover has six reflective stripes that serve to improve the visibility of your vehicle at night. That will lower the risk of collisions and other accidents in dark environments.
You can choose between the three available size options:
Sedan 3XL – 201"x70"x47" (L x W x H)
SUV YL – 193"x76"x59" (L x W x H)
SUV YXL – 201"x76"x59" (L x W x H)
How to use
The Seazen Car Cover is installed just like any other car cover, but it won't take as long. You should start with your car's license plate. After that, roll the car cover and go over the rearview mirrors. There are two mirror pockets that will ensure easy installation. Cover the rest of the car and use the elastic hem to adjust the size.
Alternative
Before deciding to purchase a car cover, it is always good to research the market to see if there are any good or better alternatives. Having everything in mind, the KAKIT SUV car cover seems like an excellent alternative to the Seazen Car Cover. It has similar features and it's also very easy to install. The KAKIT SUV also offers several accessories that you will find useful.
Conclusion
Today's market is full of different car covers. However, not nearly enough of these models are actually worth the money. This article has provided you with a detailed review of the Seazen Car Cover so you can decide if it's a good fit for your needs.