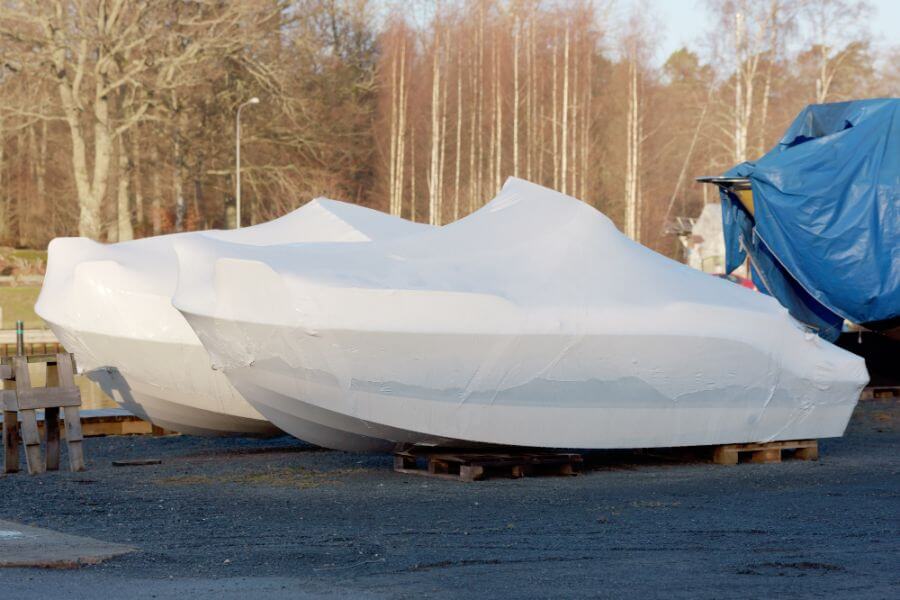 Purchasing a boat is rarely cheap, and every responsible boat owner knows that to properly protect that investment, you need to get a good cover. Leaving your boat exposed to the elements means you'll have to deal with a load of problems before you can use it again.
You could cover it with a tarp, though this will just about keep the rain out, and not much more. You could buy a custom cover, but these are often prohibitively expensive. A third option is to buy a well-made universal cover.
Vortex Pontoon Boat Cover
Vortex's pontoon cover is designed to keep your pontoon or deck protected from the weather, mold, and the sun. It's durable and is suitable for keeping your boat dry when moored or in long-term storage. Plus, it comes with plenty of straps for attaching to a trailer.
Who is this product for?
Vortex's pontoon boat cover is a good choice if you're working with a medium budget. It's easier to fit than many custom covers, being a breeze for two people, though it's still pretty simple for one person to manage it themselves. If you want to keep your pontoon boat or deck protected for a good few years without breaking the bank, this might well be the cover you've been looking for.
What's included?
When you purchase a Vortex boat cover, here's what you can expect to get:
23/24' marine-grade solution dyed 600D polyester boat cover
12 adjustable straps
5-year warranty
Storage bag
It doesn't come with any sort of support system, which is usually necessary to prevent water pooling on the cover, so you'll either need to buy one separately or fashion your own supports.
Overview of features
This cover is designed for pontoon boats that are 23' to 24' long, though it can still be effective on vessels that are a foot or two shorter than this size. The cover itself is designed to protect the sides of your boat as well as the top, and has a generous 37" skirt, which is longer than the 12" provided by other covers. This should ensure it reaches all the way down under the deck.
It's waterproofed with a double layer of polyurethane as well as UV-treated, and the thread is dyed before it is woven into shape, which means the color will last longer than others. The range of colors is decent, coming in blue, green, beige, gray, and camouflage versions.
The cover has an elasticated cord sewn into its hem, which helps to ensure that it is a snug fit and that it will stay in place. This is especially handy when mooring your boat, as you won't necessarily be able to use the provided straps to tie it down.
As for the straps, it comes with 12 of them, all made of heavy-duty materials that will stand up to heavy wind and sun exposure for many years. These make the cover more suitable for trailering and are easy to fit as they don't require you to attach them all the way under the boat like some other covers.
It's worth keeping in mind that the manufacturer doesn't cover trailering under their warranty, as the effectiveness of the fit depends so much on how good a job you do of fitting it yourself. The material should be able to hold up to reasonable speeds, so long as you secure it very thoroughly and ensure it's not able to move at all. Vortex suggest that you might need to attach more straps to make this happen.
As for the warranty, it's for 5 years, which is a good indication of how long you should expect it to last. It's a pretty impressive lifespan, considering how affordable the cover is compared to custom versions.
It would have been good if it came with a support system to stop water pooling. Thankfully, there are many simple solutions to this problem, from using PVC piping to turning a garbage can or two upside-down and putting them under the cover to create a tenting effect, encouraging the water to run off.
How to install it
If you need some help attaching the cover to your pontoon boat, check out this handy YouTube tutorial:
Alternative
If your budget is a bit tighter than this Vortex cover allows for, then you might want to take a look at Pyle's 21-24' boat cover. It doesn't have as many straps and has a shorter warranty, but it is still a good product available at a slightly lower price.
Conclusion
If you don't want to splash a load of cash on an expensive, hard-to-fit custom cover, but also don't want to just cheap out with a tarp, this Vortex pontoon boat cover is a good way to go. It should protect your investment for at least five years and could well pay for itself in saved repair and refurbishment costs.