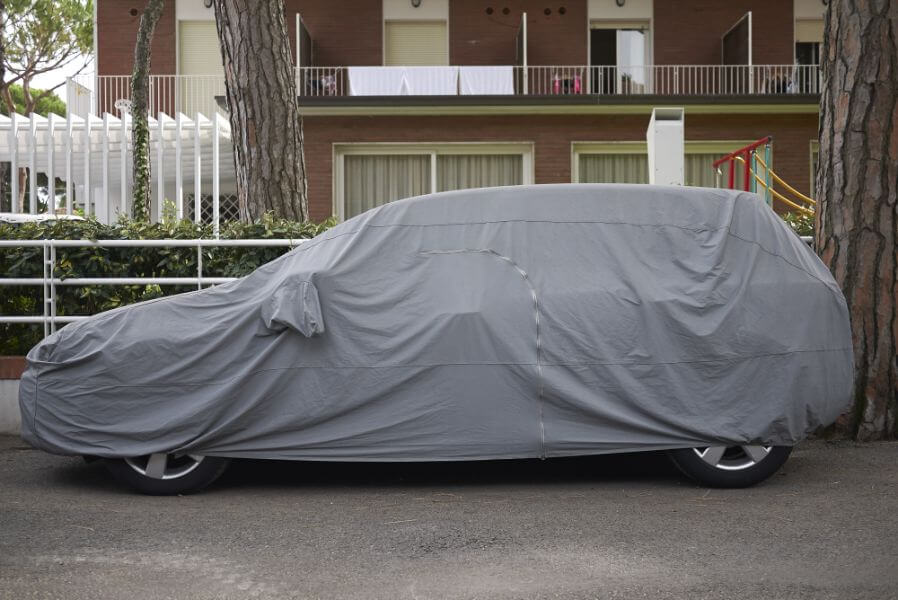 Owning a car is a luxury not everyone can afford. If you're lucky enough to own a car, you should do everything to keep it in perfect condition.
That includes changing the oil, checking the tires, and all the other things that you are probably already used to. But oftentimes, that's not enough. There are other extra precautionary measures that can keep your car healthy.
For example, since your car can get damaged even while parked in your garage, it is a good idea to acquire a good car cover – the West Coast Corvette Car Cover.
West Coast Corvette Car Cover
The West Coast Corvette Car Cover has been available on the market since 2015. Although not a recent release, this car cover is still very stylish and quite modern.
As the name suggests, the West Coast Corvette Car Cover is made for Corvette models. If you care about your vehicle's indoor safety, but also want something that looks incredibly elegant, then the West Coast Corvette Car Cover could be the right car cover for you.
Its goal is to provide maximum protection against indoor elements that can harm your vehicle.
Although this particular car cover isn't your cheapest option, its features will make you consider the investment; after all, you shouldn't cut corners when it comes to taking care of your vehicle.
Who is this product for?
The West Coast Corvette Car Cover is specifically made for indoor use. Therefore, its target customers are car owners who store their vehicles in garages.
If you often find your car dirty and dusty (both its exterior and interior), this product is definitely for you.
Aside from the precautionary side of this car cover, the manufacturers made sure that people who are looking for luxury are satisfied as well. The West Coast Corvette Car Cover is simply one of the best-designed car covers on the market.
What's included?
If you order the West Coast Corvette Car Cover, you will receive an Ultraguard storage bag which is large enough to easily fit the West Coast Corvette Car Cover; if you are planning to go on a road trip, you can take your car cover with you.
Besides the Ultraguard storage bag, there aren't any additional accessories.
Overview of features
There is much more to the West Coast Corvette Car Cover than its elegant design. Let's start with the materials used for this stylish cover.
All of West Coast Corvette's materials are breathable. Breathability is not only important but also essential if you are storing your vehicle indoors for long periods of time. This quality will prevent mildew and mold from damaging your car.
This car cover features a soft inner layer. That adds to your vehicle's exterior protection as it will ensure that its paint doesn't get damaged. In other words, you won't have to worry about scratching your car accidentally while this cover is on.
Another feature that this car cover has due to its high-quality materials is durability. The West Coast Corvette Car Cover is not easily torn or ripped.
This car cover can fit all Corvette models from 2014 to 2019. It will definitely give your car the snug fit that everyone craves for. Since it's made of stretch satin, it will lay on your car perfectly, allowing its contours and lines to be visible.
The West Coast Corvette Car Cover is completely machine washable. Simply set your machine to a normal cycle and use cold water. After that, hang the car cover to dry.
In case that takes too much time, you can clean this car cover while it's on your car. Wipe it down with soapy water, and voila – your car cover is as good as new.
For those who value style, there are several color options that you can order, including black, red, dark red, silver, dark gray, and yellow.
Finally, the West Coast Corvette Car Cover is very easy to install. The manufactures have left installation tags for easier use. You can use them to figure out which side goes in the front and which one in the back.
How to use
As we mentioned, this car cover doesn't take long to install. Unfold the car cover and look for its installation tags. Once you've found them, you will know which side goes where. Put the cover on top of your vehicle and start covering it according to the labels that you've found. It doesn't really matter which side you choose to cover first.
Make sure that everything is tightly covered and your job is done.
You can see the installation process for yourself here.
Alternative
If you are on a budget but still need a good car cover for indoor purposes only, then the CNCShop Car Cover could be the best alternative for you. This car cover is significantly cheaper while providing similar features that can protect your car from harm.
Conclusion
Owning a car brings plenty of responsibilities. How you handle them will directly reflect on your vehicle's longevity.
With that in mind, buying a quality car cover is definitely an excellent idea. Depending on your needs and preferences, the West Coast Corvette Car Cover reviewed here might be just what you're looking for.